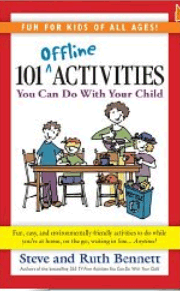 It can be tough sometimes to get – and keep! – the kids off the computer and busy doing other things like, oh say…playing outside!

Here's a free e-book that just might help get those creative juices flowing (yours and theirs!). Download a copy of 101 Offline Activities You Can Do With Your Child
Kindle Edition.
It's filled with an assortment of fun and engaging activities you can do at home, while you're out and about, or on the road. If you don't have a Kindle, you can download one of Amazon's many Free Kindle Reading Apps
for the PC, iPhone, iPad and more.