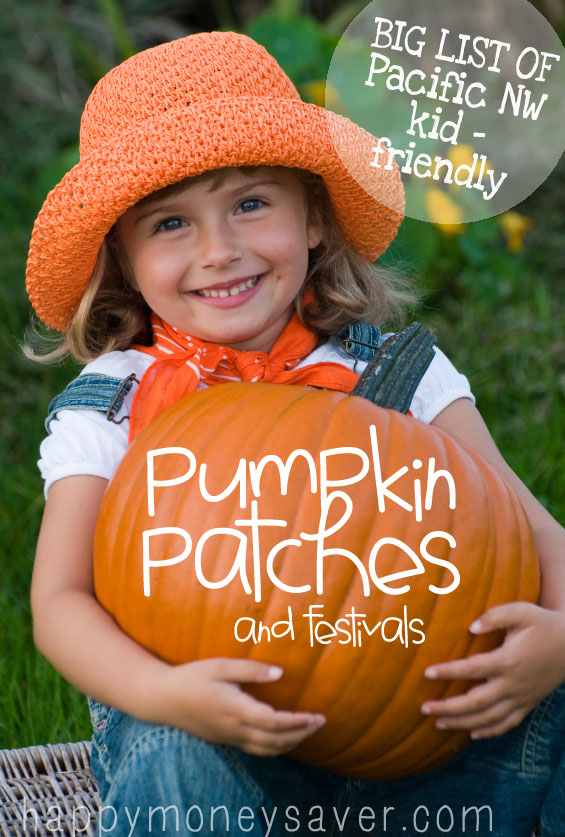 I love this time of year when I get to take my family to fun places like a Pumpkin Patch or a fall festival. Here in the Pacific Northwest we have quite a few great family friendly places and events.
Me and two other bloggers are teaming up and typing up these pumpkin patches and fall festivals by region for the whole Pacific Northwest. We hope you have fun and find some activities to take your families to.
2013 Eastern Washington & Central/Eastern Oregon Fairs, Festivals and Pumpkin Patches
U Pick Pumpkins
Job's Nursery– Pasco, WA (opens Oct. 1)
Country Mercantile – Pasco, WA (opens Sept. 29)
Carver Farms – Newman Lake, WA
Wilson Banner Ranch – Clarkston, WA
Colville Corn Maze and Pumpkin Patch – Colville, WA
Knapps on Green Bluff- Spokane, WA
Thompsons Farm Market – Naches, WA
Quincy Valley Lions Club Harvest Maze & Pumpkin Patch – Quincy, WA
Fall Festivals and Fairs
Wenatchee River Salmon Festival – 9/19-9/21, Leavenworth, WA
Central Washington State Fair– 9/20- 9/29 Yakima, WA
Sausage Festival – Sept 20-21 Richland, WA
Autumn Leaf Festival – 9/27-9/29, Leavenworth, WA
The Great Prosser Balloon Rally – 9/27-9/29, Prosser, WA
Sacajawea Heritage Days – 9/27-9/28/2013, Sacajawea State Park, Pasco, WA (note: free event, there will be no Discover Pass fees for these days)
The Country Mercantile Harvest Festival begins Sept 28, 2013 – October 31st . 7 days a week, 9am-6pm, Pasco, WA
Bill's Berry Farm Apple & Pumpkin Festival – Saturday 9/28 ANd all Saturdays in October, 10-5 Grandview, WA
Apple Festival – Saturdays and Sundays, 9/21 – 10/27 – Siemer's Farms, Mead, WA
Marcus Ciderfest - 10/4-10/5 Marcus, WA
Dayton On Tour – 10/5/13, Dayton, WA
Buckner Orchard Harvest Fest – 10/5/13, Buckner Orchards, Stehekin, WA
Schell's Massive Corn Maze & Fall Harvest - 10/4-10/31,2013 –  7 days a week – various times, Union Gap and Toppenish, WA
Anderson Family Farm Fall Festival – 10/5 – Anderson Family Farm, Ellensburg, WA
The Sunshine Farm Fall Harvest Fest – 10/5  from 10-4, Lake Chelan, WA
Leavenworth Oktoberfest – three weekends: 10/4-10/5, 10/11-10/12, and 10/18-10/29, Leavenworth, WA
9th Annual Quilt Show 10/11-10/12 Boardman, OR
Kennewick Valley Grange Fall Bazaar – 10/11-10/12 Kennewick, WA
Holly Daze - 10/19/2013 Kennewick, WA
Old Roses Mercantile Pumpkin Patch –  10-1-10/31 La Grande, OR
Kiwanis Community Trick or Treat 10/31, Boardman, OR
The Northern Pacific Train Museum – Annual pumpkin run 10/25, Toppenish, WA
The Northern Pacific Train Museum - Huanted Train and Depot October 2013, Toppenish, WA
Fall Release Weekend, – 11/1 – 11/3, Milton Freewater
Seasons Faire – 11/2 La Grande, OR
Tri-Cities Wine Festival – 11/9 Kennewick, WA
If you know of a Fall Fair, Festival or Pumpkin patch in Eastern WA or Oregon that I missed please leave a comment below and I will add it to this list.
See the Western Oregon and SW Washington list of Fall Fairs & Festivals.
See the Puget Sound Fall Fairs & Festivals.17 Comments