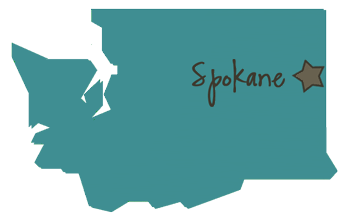 Here are some fun things you can do with your family in the Spokane, Washington area for the month of December. If you know of a fun family-themed event not- listed for Spokane I hope you will take a moment and please share!
FREE EVENTS:
11/26-12/24 Free horse drawn carriage rides downtown. Fridays 3-8pm;Saturday, Sunday 12-5pm; Christmas Eve 12-3pm. Pick up is on Wall Street and Main Ave.
 
12/3, 12/10, and 12/17 The Spokane Valley Mall is having story time with Mrs. Clause from 5pm-6pm.  The First 100 children to arrive will receive a FREE plush animal.  This is located at the photos with Santa.  
 
12/3-12/5 Journey To Bethlehem.  South Hill's Seventh Day Adventist Church will be holding a live nativity.  It starts at 6pm and ends at 9pm.  For more information go here
 
12/4 and 12/11 Lowe's  Build and Grow from 10am-11am.  This is the first 2 of 3 parts of a train.  You will need to go to their website here to register your kids
 
12/27-12/31 The Garland Theatre will be showing A Christmas Carol for FREE starting at 9:30am. They are also having what they call Totally Tubular Tuesdays.  On these days movies are only $1.00.  Here is the list for December:
12/7 Princess Bride
12/14The Muppetts Christams Carol
12/21 Gremlins
12/28 E.T.
call 509-327-2509 or visit  http://www.garlandtheater.com/
 
Spokane Public Libraries offer Free story time for kids.  You can go to their website here to find the library closest to you and get the times for this event.
 
Borders Monday Game Night. It's game time every Monday night. Sit down with friends and enjoy our selection of board games or bring your own. Starts at 6pm.
12/11 Holiday kids event. Kids ages 3 to 8 are invited to celebrate the holidays with stories, songs, games and more. Starts at 11am. For more information call 509-466-2231
 
For free events happening at Barnes and Noble go here
For free events happening at Michaels craft store, click here.
OTHER FUN EVENTS
Riverfront Park
Ice Palace click here for rates and times
When you purchase your gifts at participating downtown retailers, you can receive a FREE ice skating coupon (skate rental not included).
I-Max Theatre click here for rates and times
 
12/11 2nd Annual Breakfast with Santa at Spokane First Church of the Nazarene. Come enjoy breakfast, the true story of Christmas, face painting, pictures with Santa, and more.  Tickets are $3 for children and $4 for adults and are on sale until Dec. 8 (no tickets will be sold at the door.)  Doors open at 8:30am and breakfast is served at 9am. If you have any questions, please call Donavon King at 509-467-8986.
 
11/13-12/24 Northtown Mall and Spokane Valley Mall – get your photos with Santa.  Prices vary depending on what package you choose. 
Both malls are also doing what they call Merrier Fridays.  Earn a $10.00 shop gift card with a qualifying $100.00 in receipts. 
 
12/17, 12/18, and 12/19 Spokane Symphony presents The Nutcracker.  Click here for ticket prices and times
Entertainment Venues
Click on websites for calendar of events
 
Spokane Arena
720 West Mallon Avenue,
Spokane, WA 99201   
509.279.7000
http://www.spokanearena.com/index.php
 
The Fox Theater
818 W. Riverside, Ste. 100
Spokane, WA 99201
509.326.3136
http://www.martinwoldsontheater.com/Default.aspx
 
Spokane Symphony
818 W. Riverside, Ste. 100
Spokane, WA 99201
509.624.1200
http://www.spokanesymphony.com/
 
Spokane Civic Theatre
1020 N. Howard St.
Spokane, WA 99201
509.325.2507
http://www.mettheater.com/
 
WestCoast Entertainment/Best of Broadway
800.843.4667
http://bestofbroadwayspokane.com/1011/default.asp
 
Spokane International Film Festival
http://spokanefilmfestival.org/
 
The Northwest Museum of Arts & Culture
2316 W. 1st Ave.
Spokane, WA 99201
509.456.393
http://www.northwestmuseum.org/

These deals were compiled just for you by specialist Michele who has lived in Spokane her whole life. She met her husband here 7 years ago.  He was in the Air Force and got stationed at Fairchild AFB.  They have been blessed with one adorable, 2 year old boy, whom she has the privilege of staying home and taking care of.  Her husband just recently got out of the Air Force after 8 years and is now a full-time student, so they are always looking for fun, inexpensive things to do around town.  She hope this list helps you and your family find some fun things to do together.2 Comments
Spokane, WA Fun Things To Do in December
was last modified:
January 31st, 2011
by