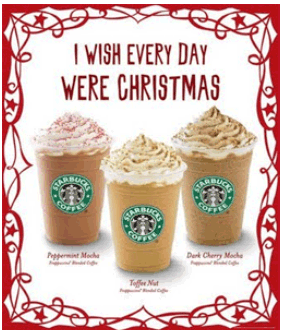 The 12 Days of Sharing are just getting started at Starbucks! Today's deal: FREE coffee through January with the purchase of a the Brewed Coffee 16 oz. Tumbler ($30). This isn't a bad deal, considering you buy the tumbler once and get free coffee for an entire month – especially if you drink it on a daily basis.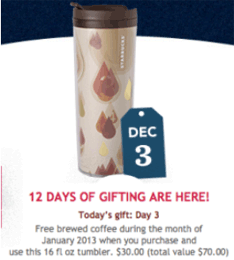 Here are the rest of the daily deals you can enjoy over the next 8 days:

December 4th – Get a Stainless Steel Tumbler for $9.95 and Get any 1 LB Christmas Blend and a Red Stainless Tumbler for only $19.95 (reg: $30)
December 5th – Get a Red, Blue, or Gold acrylic tumbler for $5.95
December 6th – Buy a Merry Moments Cocoa Gift Set for $12.9
December 7th – Buy any 1 LB or Christmas Blend Coffee or K Cup 12 pk for $9.95. Buy a Starbucks VIA Christmas Blend 12 pack for $7.95 and buy one Christmas Verismo Pod Pack for $8.95.
December 8th – Buy a 16 oz Cold Cup Filled with Frappuccino inspired flavored chocolates for $10.95.
December 9th – Buy a Starbucks 12 oz Red Cup Collection Mug for $3.95.
December 10th – Save 30% on gift packs
December 11th – Save 40% off on Cold Cups and Cold Cup Straws
December 12th – Save 40% on a Cranberry Bliss Bar Tray
Each deal is only good for that day only, while supplies last. Most of these deals tend to sell out quickly, so if you see something you KNOW you're going to want, head to your nearest Starbucks first thing in the morning to get in on that day's deal!
Which of these deals are YOU looking forward to most? Leave a Comment