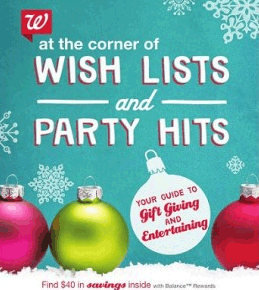 Attention, Walgreens shoppers! Keep your eyes peeled for the new Wish Lists and Party Hits coupon book packed with $40 worth of HOT store coupons (see list below). The coupons expire 12/25/12 and can be stacked with manufacturer's coupons.
Here's that list for your viewing pleasure:
$1/1 Almay Intense i-Color Trio
$1/1 Bauducco Panettone Specialty Cake
$1/1 Cover Girl Clump Crusher Mascara
$0.50/1 Cover Girl Outlast Stay Brilliant Nail Gloss
$1/1 Dickinson's Witch Hazel Skin Care
$1/1 Dream Water Shot Snoozeberry 2.5oz
$5/1 Energizer 10 Watt Car Charger, 10 Watt Home Charger, USB Cable, 6 LED Headlight and Folding LED Lantern
$10/1 iHome AM/FM Radio/Alarm Clock for iPad, iPhone or iPod
$1/1 L'Oreal Infallible 24 Hour Eye Shadow, Colour Riche Nail or Colour Riche Lipcolour
$2/1 L'Oreal Revitalift Triple Power .5 to 1.7oz
$5/1 Luster 1 Hour White
$1/1 Maybelline Colossal Volum' Express Cat Eyes Mascara .31oz
$2/1 Pedigree Dentastix 25pk or Cesar Canine Cuisine 12pk
$0.50/1 Purina Beneful Baked Delights Dog Snacks 11oz
$1/1 Revlon ColorStay Ultimate Suede Lipstick or PhotoReady Primer + Shadow
$1/1 Rimmel Scandaleyes Lycra Flex Mascara
$4/1 ScentBeads Candle Jar 13.5oz
$2/1 Sensational Color or Gel Kits

Now on to those Black Friday moneymakers!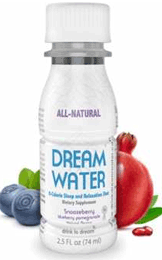 Dream Water Shot Snoozeberry 2.5 oz $2.49 = $2.49 RR
Use the $1/1 Dream Water Shot Snoozeberry 2.5oz Walgreens store coupon found in the new coupon booklet
Pay $1.49
Get back a $2.49 RR
Final cost = FREE + a $1 moneymaker
Almay Intense i-color Cosmetics $6.99 = $5.50 RR
Use the $1/1 Almay regional coupon found in the 11/18 SS
Plus, use the $1/1 Almay Intense Trio Walgreens store coupon found in the new coupon booklet
Pay $4.99
Get back a $5.50 RR
Final cost = FREE + a $0.51 moneymaker
Thanks, Wild for Wags! Leave a Comment