Attention Locals! Zaycon Foods is comin' your way once again, bringing with them fresh 93/7 beef for only $2.99/lb!
Due to limited supply, this deal is ONLY available to the following delivery areas: Spokane North, Spokane South, Spokane Valley, Airway Heights, Ritzville, Moses Lake, Wenatchee, Ellensburg, Yakima, Zillah, Richland, Kennewick, and Pasco.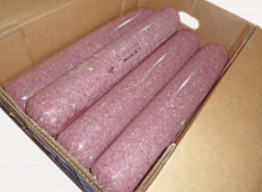 Just the facts, Ma'am (aka: details):
Zaycon's fresh, premium, fine grind 93/7 Super Lean Ground Beef –
• Comes in a 40-lb case with four 10-lb chubs per case (*Approximate weight. Some cases will weigh slightly less than 40 lbs. Customers receiving cases less than 40 lbs will receive an exact credit representing this difference in their ZF account.)
• No chemicals, additives or water added to meat during processing
• Processed at a USDA-inspected, state-of-the-art plant employing strict operating protocols, and the highest in food-safety standards.
To Purchase your Fresh, Ground Beef:
Choose your delivery location and pre-pay for your order
Head over to your specific delivery location and pop the trunk. Zaycon's drivers will load your beef into your vehicle for you! No muss, no fuss (no standing outside in the cold or hauling a 40lb box all by your lonesome… 😉
Remember – supplies are limited! Orders must be received by February 3rd.3 Comments