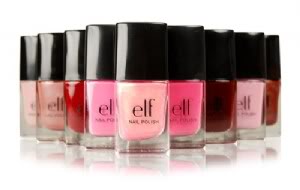 Elf Cosmetics has tons of  items that cost only $1!! These would be great stocking stuffers, or a nice gift for a friend! I have heard great things about how much everyone loves this makeup brand. If you use the code: TOOSHP than you pay only $2 for shipping!
OR You can get FREE shipping if you spend $15 with the code: ELFCMO
I dont know how long these codes are good for, but as of right now they are currently working. Have fun and be careful not to go crazy with this one, because they have so many items!
Here is a list of what you will find for $1:
Waterproof Eyeliner Pen
Liquid Eyeliner
False Lashes
Regular and Waterproof Mascara Duo
Wet Gloss Lash and Brow Clear Mascara
Brightening Eye liner
Brightening Eye Color
Duo Eye Shadow Cream
Eyelid Primer
Eye Widener
All Over Color Stick
Shimmering facial Whip
Duo Eyeshadow
Liquid Eyeshadow
LIPS:
Super Glossy Lip Shine SPF 15
Plumping Lip Glaze
Hypershine Gloss
Luscious Liquid Lipstick
Feather Proof Moisturizing Lip Liner
Therapeutic Conditioning Lip Balm
All Over Color Stick
Custom Lip Gloss
Shimmering Facial Whip
FACE:
All Over Color Stick
All Over Color Stick Concealer
Natural radiance blusher
Shimmering Facial Whip
Healthy Glow Bronzing Powder
Tinted Moisturizer SPF 15
Tone Correcting Concealer
Clarifying Pressed Powder
Custom Face (face powder)
NAILS:
Nail Polish
Nail Polish Removal Pads
Nourishing Cuticle Pen
Nail Block
Toe Separators
Cuticle Pushers
BRUSHES:
Concealer Brush
Total Face Brush
Eyeliner Brush
Eyeshadow Brush
Foundation Brush
Blushing, Bronzing and Blending Brush
Defining Eye Brush
Blending Eye Brush
Eyelash and Brow Brush
Lip Defining Brush
Smudge Eye Sponge
Brow Comb and Brush
TOOLS:
Eyelash Curler
Shine Eraser
Travel Mirror
Blending Wedges
Powder Puffs (set of 4)
Eyeshadow Applicators
Slant Tweezers
Dual Pencil Sharpener
Eyebrow Stencil
Eye Makeup Remover Pads
BATH & BODY
Hand Sanitizer
SUGAR KISS ITEMS:
Heart Lip Tint
Sugar Kiss Lip Gloss Tin
Glitter Liquid Eyeliner
Shimmer Eye Dust
Super Glossy Lip Shine
Hyper Shiny Gloss
Lip Liner Pencil
Darling Mascara
False Eyelashes
Curly Eyelash Tool
Thank You to the ladies over at Fabulessly Frugal for this great $1 list!