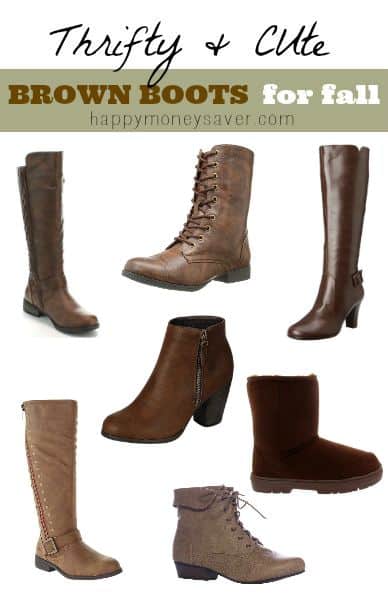 When you feel that first crisp breeze, you know that summer is gone and fall is in the air. It is just around the corner and I don't know about you, but I am so excited! I look forward to fall for many reasons… I love eating warm soups, sitting by the fireplace, pumpkin pie during the holidays, and the leaves changing colors. Most of all though, is that I get to wear my boots again! Tell me I'm not alone in this. 🙂 I love fall fashion and to get you ladies ready I have found 15 boots that are not only cute but also affordable. Just an FYI- All prices are based off size 7.5 or 8, so the cost can vary depending on what size of shoe you wear.
Brown Boots for Women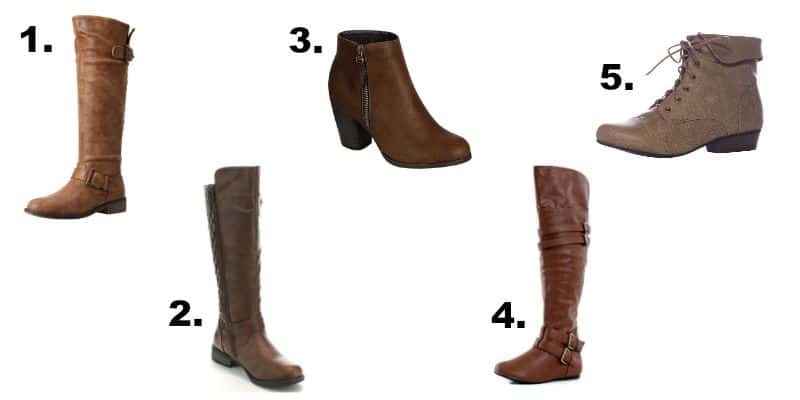 1.  These Madden Girl Women's Cactuss Boots are adorable. I love the details on this boot. It has 2 super cute buckles as well as a zipper down the back making them easy to put on. The circular studs also add another cute detail. These boots are only $39.99 making them a deal you can't pass up.
2. I love these Forever Mango-21 Women's Winkle Back Shaft Side Zip Knee High Flat Riding Boots. Not only are they are great price at just $38.78 but they have some great features. The buckles, side zipper, quilted back, and the high front and low back make this boot a great addition to your closet.
3. How cute are these Reneeze Baba-02 Women Fashion Comfy Stacked Chunky Heel Side Zipper Ankle Bootie. I love that these have the versatility to be dressed up for a night out or a more casual look with a pair of jeans. At only $29.34 these are very simple, yet fashionable boots that you will definitely want to grab.
4. I love the double buckles on both the top and bottom of these West Blvd Women's Kinshasa Boot. These boots are only $20.99 and definitely look like they would be comfortable. You can't beat stylish and comfy. If these boots are your style go grab them quick before they are gone.
5. Everything about these Breckelles – Ladies Indy-11 Bootie Boot screams cute. From the lace up front to the folded down top these boots are adorable. These are priced at only $17.99 which is a steal.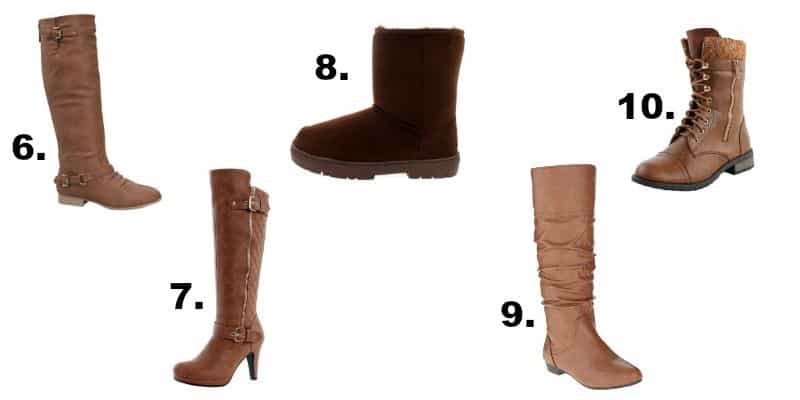 6. These Top Moda Women's COCO 1 Knee High Riding Boots are very cute and have a casual look to them. They have a very simple design with a zipper in the back and a couple of buckles. They are priced at $34.90 so grab them while you can.
7. How adorable are these West Blvd Boston Quilted Riding Boots. This is a great boot for a more dressed up occasion. I love the high heal, the zipper down the side, the quilted texture in the back and the high in the front. All those things plus the fact that they are only $20.99 leaves you with no other decision other than to purchase and add these to your boot collection.
8. These Womens Original Short Classic Fur Lined Winter Rain Snow Boots make me excited for winter. These boots scream warm and comfy. I love that they are lined with fur for extra warmth and comfort. They have a durable sole and good tread which will be a great thing if you live where there is snow. They are priced at only $34.99.
9. These Wild Pair Women's Graham Slouch Boots are your classic slouchy boot with softly pointed toe. I love the cutout in the back and the rear buckle accent. These boots can be dressed up or dressed down which make them very versatile. With a price of only $23.99, a deal like this can't be passed up. 
10. I absolutely love the look of these Forever Link Womens Mango-31 Round Toe Military Lace Up Knit Ankle Cuff Low Heel Combat Boots. I love the knit fabric around the top it adds a fun look to the boots. They do have a zipper on the side making it so you don't have to lace up everytime and instead makes it an easy slide on or off boot. I can think of endless possibilities of how to wear these boots and with the price for these at only $34.32 you will definitely get your money's worth.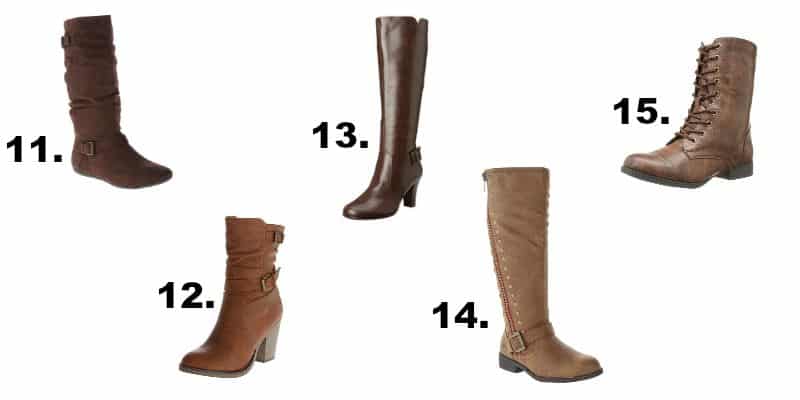 11. These Report Women's Elia Slouch Boots are my favorite. I love how comfortable they look yet still look nice. I love the slouchy look and the buckles. These would look adorable paired with leggings, skinny jeans and even skirts. They are priced at only $20.98 so definitely a great price for a super cute pair of boots.
12. Take a look at these Madden Girl Women's Krisis Motorcycle Boot. I absolutely love the look of these boots. The high heel makes these look very classy and with the buckles it adds even more wow factor. Can you believe these are only priced at $28.71. What are you waiting for go grab these super cute mid-calf boots.
13. How sleek and stylish are these Aerosoles Women's Money Role Engineer Boots? I love how these boots just scream sophistication with a heel and an ankle buckle. As an added bonus these boots have 2 buckles making them easier to get on. $49.58 is all you will pay for these super cute stylish boots.
14. These Madden Girl Women's Cooper Riding Boot may be my favorite. They are a moto-inspired riding boot with circular studs, full-length zipper and strap at the ankle. These boots are definitely one of my favorites and you can't beat the price of only $35.99. 
15. Everything about these Wild Pair Women's Belfair Combat Boots are super cute. I love that it has the laced look in the front but the zipper on the side to easily put on and take off. Priced at only $22.99, a deal like this can't be passed up.
Well there you have it, 15 cute and thrifty brown boots for women. Ladies, you are going to have a hard time not wanting to purchase all of them. I know I want to. Fall and Winter are just around the corner and you are going to need to these boots very soon so don't wait to purchase the ones you like. Happy shopping!!