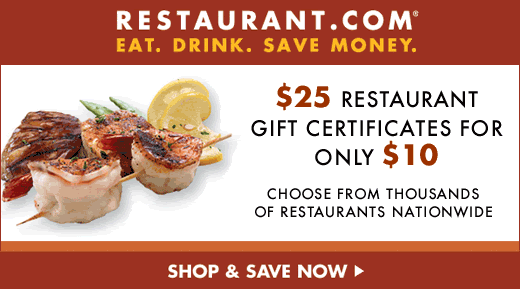 Restaurant.com is this cool website that has partnered with tons of Restaurants to offer deep discounts when you dine out. What you do is type in your zipcode and it will show you the participating restaurants  in your area. Then you choose one you like and purchase a certificate to get a GREAT discount on your meals.
Before you order, I would like to explain their program, as it is kinda tricky.
When Restaurant.com has sales like 80-90%  off that is when you will want to purchase the gift certificates. Normally that will make them only $1-2 for a $25 gift certificate. You purchase online and print them out on your computer to take into the restaurant.
These $25 Gift Certificates for $2 are a good deal, but these work more like coupons than gift cerfificates. Yes, you heard me right, they are more like COUPONS: And why would I say that you ask?
If you buy a $25 gift certificate, please read the terms first. For example, a restaurant by me has the terms that I must make a purchase of $35 to use the $25 gift certificate. See what I mean about being more like coupon?
Right now, in my area of Tri-Cities , the RF McDougals restaurant is listed on here and has a $25 Gift Certificate for sale for $2 with a promotional code! BUT, you need to purchase $35 to get that $25 off.   So, essentially, you need to spend $10 plus the $2 for your Restaurant.com certificate.  So, $12 for $35 worth of food. This is still a great deal! But, as you can see, it is essentially a coupon, as you have to worry about spending a certain amount first. 
These are still a great to use to save yourself money. Some people use these if they are planning a vacation out of town(as you can just type in the zipcode of where they are going and look for deals in that area) or some use them  if they have a are just planning a nice dinner out.  The cool thing about these too is that you can print them out and use them right away or save them to use within a year.
As I go to my local areas and review the restaurants I will post the reviews below. Check back for updates!
—————————————————————————————————————————-
Local Tri-City Restaurant.com review: Went to RF McDougals (Sept 2009)
I took my mom, dad, sister and our 3 kids to RF McDougals.  The atmosphere was kind of dark in the restaurant, and more for adults it seemed.  However, we went outside to eat on the deck overlooking the river. It was  nice looking at the river, however there was a tons of wasps out bugging us.  We ordered one kid meal for the three kids to share (they had already eaten lunch) and each of us ordered a lunch item that was priced around $8 each . The kids meal was $5.
Food: We all chose sandwiches like French Dip, Reubens, and one of us had Chicken Strip Basket.  The food was pretty good – -my sister said the chicken strips were especially great! They all came with fries or soup, and tasted great. I think one of us got a pop, the rest had water.
The total came to $39.00 for everything,  so I handed them the $25 Gift Certificate, and they minused that amount. I paid $14 for 4 adults and the kids!  Add the $1 for the Restaurant.com certificate (that I bought when they went 90% off) and the total was $15 for a whole "out-to-lunch" with 4 adults at a restaurant. I would have spent less if it just was me and my husband.  So I saved $25 this time, and spent $15. Not too bad!