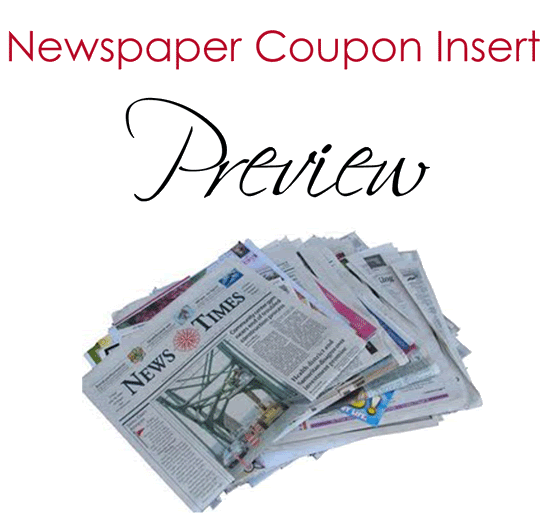 Would you like to see a preview of the upcoming insert coupons coming in this Sunday (8/30) newspaper?  Keep in mind that NOT ALL AREAS get the same coupons or coupon values.  We should get one SmartSource, one Red Plum and one Proctor & Gamble! Three inserts..yeay!
Here are my favorites that I hope we get:
Smartsource
 $6/1 Air Wick Freshmatic Ultra i-Motion Starter Kit
 $2.50/1 Biz Powder
$2/1 Biz Liquid 
$1/1 Edwards Singles (might make for cheap singles at Walmart)
FREE Marcal Small Steps Single Roll
$0.75/1 Palmolive Pure+Clear 
Buy 1 get 1 FREE- Ziploc Fresh Shield Easy Zipper Bags with Expandable Bottom
Save $0.75/1 Colgate Max White, Max Fresh, Total, Sensitive or Kids Toothpaste
Procter & Gamble
$1/1 Downy Liquid Fabric Softener
$1/1 Tide any
FREE CoverGirl Face Product With purchase of Foundation (Last year used at RiteAid with a B1G1Free Sale to get 2 free ones!)
$1/1 Bounce Dryer Bar
RedPlum
$1.25/2 Quaker Instant Oatmeal or Old Fashioned Oats
.75/2 Quaker Chewy Bars $
$1/2 Aunt Jemima Mix or Syrup
$1/2 Ball Park
$1/1 Success Rice
$2/2 Kelloggs Froot Loops, Apple Jacks, Jumbo Krispies, MiniWheats Little Bites, Raisin Bran Extra or Pop Tarts 20% Fiber
Plus tons more great coupons!!
To see the whole list click on Sunday Coupon Previews blog!