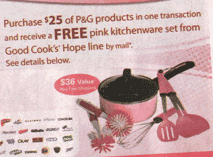 I noticed this *hot* Mail in Rebate form was at the Albertsons on Lee Blvd in Richland a week ago locally so keep your eyes open in your local stores.
The rebate forms says Buy $25 or more of participating Procter & Gamble products in a single transaction to get a FREE 8-peice Good Cook's Hope line PINK KITCHENWARE set by mail!! You will want to hurry though as this form says to buy between 9/22-11/6, and you must submit by 11/13.
Here are the FREE Kitchen Items included:
•2 quart sauce pan with lid
•Classic Balloon Wisk
•3 Piece Mini Nylon Tool Set and
•2 piece Nylon Scrub Brush Set
The cool thing about this is you could do this transaction here at Albertsons in the next 2 days–and get the Kitchen set too!
Scenario : Olay Bar Soap & Secret Deodorant
Buy:
(3) Olay 6-Bar Soap pack, or Body Wash at $5.99 ea
(3) Secret Deodorants $2.79 ea
Subtotal is $26.34
– use (3) $5.00 off Olay Bar Soap or Body Wash wyb Secret deodorant from 10/31 PG insert
= Pay $11.34, get back $5 on your next shopping trip
Final price $6.34 for 6 great products! (that is like only $1.06 each + tax) Plus submit the Mail In Rebate for 8 free Kitchen Items *woo hoo!*
(Thanks for the reminder about using this form Coupon Connections NW!)