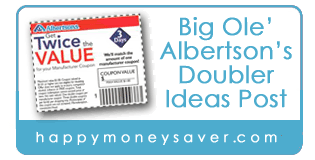 In this Sunday's Albertson's Ad we are getting 3 "Twice the Value" Coupons to use for 3 days (Sunday – Tuesday).  Prices may vary from store to store on unadvertised deals. I found these prices at the Beaverton/Portland Oregon Albertsons store.

New to Albertsons "Twice The Value Coupons? Click here for Basic Doublers 101.
Unadvertised Deals
[%printable-list:AlbertsonsTwiceTheValues%]
Advertised Deals
To see all the advertised deals using doublers see my Albertsons Weekly Deal Matchups post here.
Happy Doubling everyone! If you see any other hot deals please share by leaving a comment on this post.