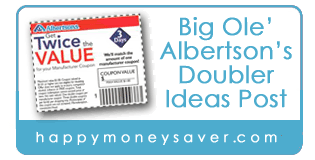 New to Albertsons "Twice The Value Coupons? Click here for Basic Doublers 101.
Hello dear readers…. This weekend we are getting 3 Albertson's Doubler coupons to use for 3 days only.  Unfortunately I am still in Canada and am unable to get to the store to make my big ole' doulbers list for you all. So here are the best deals I can see from the ad I already did matchups from
I would LOVE it if any of you bloggers out there would link up YOUR Doubler Ideas POSTS to share in this doubler goodness..Just add your post to Mr. Linky below.

Tyson Breaded Chicken $4.99
-use $1/1 from 10/10 SS (1-10-11) + doubler
= $2.99
Pace Picante Sauce or Salsa $1.50 each
-use .50/2 Picante Sauce or .40/2 Salsa from 12/5 SS + doubler
= as low as .75 each
Nabisco Snack Crackers $2.00
-use $1/2 from 11/14 SS (1-2-11) Sunday only + doubler
= $1.00
Garden of Eatin Chips $3.49
-use $1/1 printable coupon + doubler
= $1.49
Hormel Pepperoni $2.99
-use .55/1 from 11/7 SS (1-3-11) Sunday, Monday only + doubler
= $1.89
Coffee-mate creamer $2.00
-use .75/1 printable coupon or $1/1 printable coupon + doubler
= FREE
Hormel Compleats $2.00
-use $1/3 from 11/14 SS + doubler
= $1.33
Hormel Chili No Bean $1.50
-use Hormel Chili products, any .55/2 (1-3-11) SS-11/07 Sunday and Monday only
= $0.95
Wonka premium Bar $2.00
-use $1/1 printable coupon (coupons.com)
= FREE
Have fun double coupon shopping. (..sniff… without me…*cry*)
Whether you have found one doubler deal or you have a big ole' matchup post please link it up below. Please link up directly to your doubler idea blog post, and not directly to your blog.