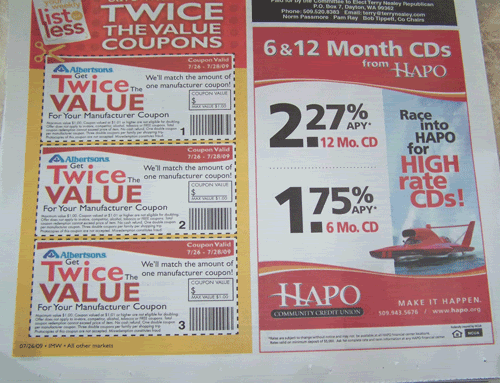 Yep yep yep..we got them again! But you have to look closely in the newspaper..as they were in page B6 in the Tri-City Herald. For other areas, you will want to look through the whole paper to try and find it.
Anyways, 3 Days of Doubler bliss..this is almost as good as chocolate…almost.  There are 3 doublers to use from 8/23 to 8/25.
Here are some ideas to use them!


Haagen -Dazs ice cream cups 4.25 oz. $1.00 ea (Buy 6)
-use (2)  $1.00/3 printables  Here (print it twice)
-use 2 Doublers
= $2 for all 6 (.33 each)
Arm & Hammer detergent 36-51 loads $2.99
-use 1.00/1 printable at this link
– use doubler
= .99!
Tyson breaded chicken entree 25-29 oz. 100% natural $4.99
– use Tyson Frozen Breaded Chicken bag coupon $1/1 from 8/2 Smartsource insert
-use doubler
= $2.99
 **Box Top promo: Save $5 on your NEXT shopping order, PLUS get 50 Bonus Box Tops ($5 value) when you spend $20 on participating items.**
Toilet Paper Scenario:
3 Cottenelle Bath Tissue 12 ct double rolls @ 5.99 ea
2 Hefty cups, plates, or bowls 20-50 ct. @1.67 ea
= $21.31
-use $1/2  printable for Hefty
-use  (3) $1/1 printables at this link and this link for Cottenelle 
-use 3 Doublers
=Pay $14.31 plus tax and get back a $5 checkout voucher for your next order! (Net=$9.31)
I am sure there are some other great deals to use with your doublers. If I find more I will post them Monday morning.  Or feel free to post them in a comment too.