Remember last week when I mentioned about getting
 $25 worth of FREE Groceries?  
 Purchase $25 of participating productsand receive a $5 catalina to use on your next transaction (for anything). Then, mail in your  receipt (dated between 8/7-8/23) and receive a $20 check BACK in the mail!
It is finally time to talk about the best deals we can create with this! Yahoo! 
Albertsons (starting Wed the 12th) is having a great Kraft sale that goes right along with this promotion.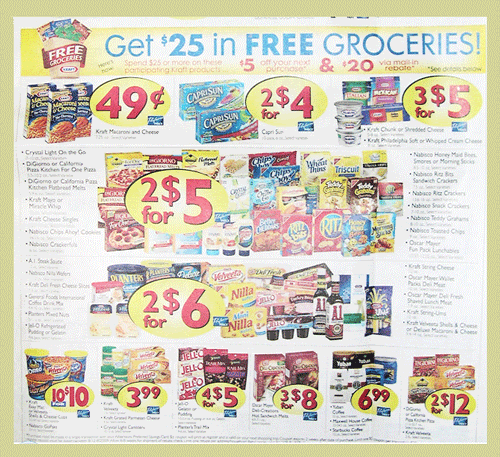 #1– First thing I wanted to mention is that if you have been shopping THIS WEEKS Promotion at Albertsons (Buy $30 get $15 coupons back) I am saving my last $15 set of coupons for this Kraft sale next week to save more $!
#2- If you want to have a look at next weeks full Albertsons Ad click here (thanks Superbob at HCW)

What is really cool about this Kraft $25 in free groceries is that you can really mix and match anything that is participating! So feel free to create your own scenarios of what you and your family loves.  These scenarios are for using coupons and maximizing your money making possibilites. But you dont need coupons to get your Free groceries — Have fun! 
Buy :
10 Velveeta Shells Cups @ 1.00 ea
2 Philadelphia Cream Cheese @ $1.67 ea
4 Kraft Natural, Shredded or Chunk Cheese 8 oz @ $1.67 ea
2 Crackerfuls Crackers @2.50 ea
SubTotal= $25.00
Use (5) Velvetta BOGO coupons from 8/9 SS
Use (1) $1/2 Philadelphia coupon from 8/9 RP
Use (2) $1/2 Kraft cheese coupons from 8/9 RP
Use (2) $1/1 Crackerfuls coupons from 7/12 SS
Total =$15 -( use $15 coupon vouchers from last weeks sale) = Pay $0
and get $5 catalina right then plus your $20 back later.

If you are a coupon newbie and do not have alot of coupons try this scenario(you will need to buy 1 Sunday paper from this last Sunday 8/9 for the coupons):
Buy:
2) California Pizza Kitchen 12 inch pizzas @ $6.00 ea
2) Philadelphia Cream Cheese @ $1.67 ea
2) Kraft Singles [email protected] $2.50 ea
2) Kraft Velveeta Cups @ 1.00 ea
2) Kraft Natural, Shredded or Chunk Cheese 8 oz @ $1.67 ea
Subtotal = $25.67
Hand the cashier these coupons:
2) $1/1 California Pizza Printable Coupons
1) Bogo Velveeta cups coupon from 8/9 SS
1) $1/2 coupon for Philadelphia cream cheese from 8/9 RP
1) $1/2 Kraft singles coupon from 8/9 RP
1) $1/2 Kraft cheese coupon from 8/9 RP
Total = $19.67 (if you have $15 coupon from last week sale use it now) = $4.67
Plus get back $5 now and $20 later.
I hope you all have a great time with this awesome opportunity! Let me know if you come up with any great scenarios too!