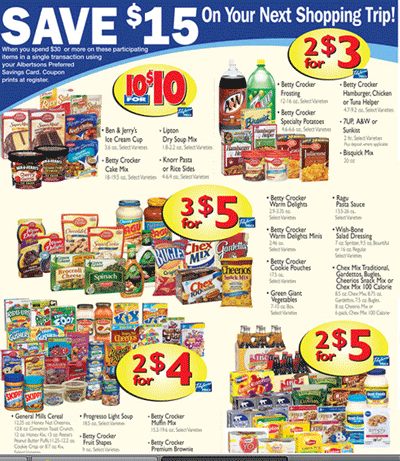 I hope noone out there has had trouble with your $15 Checkout Vouchers printing after you have purchased $30 worth of the sale items. But if you have had trouble, or are nervous about doing the deal..I have a few ideas for you.
1) Use the Master UPC list to check for exact participating items.  The link below is a master UPC listing of all the UPCs that are participating in the promo.
For example:you might want to buy the Cookie Crisp sprinkles cereal instead of regular cookie crisp cereal.  If you were to look at the master UPC list you would see that Cookie Crisp Sprinkles is not in their system (even though it is pictured in the ad) So you would run into problems.   I suggest printing the list off booklet style to take with you in the store and buying exact participating UPC items.(Thanks to this list goes to Tracey on CW!)
2) If you have already shopped this sale and did not get your $15 Coupon Voucher then here is the number you will need to call to have it mailed to you. The phone number is
1-888-8coupon (268766)
Have fun with this promotion though! I know I will be.