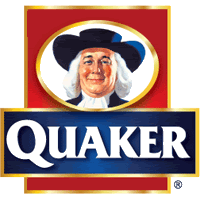 I have read now from HotCouponWorld that we are getting the Quaker Sale coming this Wednesday! It looks like its much the same as last time. $1 per box when you buy 5 ect.  Here are the items they had posted:
$1 quaker cereal sale wyb 5 with coupon (It looks like we might have a coupon in the ad!)
$1 quaker breakfast cookies 10.1oz select varieties
$1 quaker chewy bars or dipps 7.8-8.8oz select varieties
$1 aunt jemima / quaker oatmeal pancake mix 32oz select varieties
$1.40 quaker oatmeal / aunt jamima syrup
$1/2 yoplait / alb yogurt
$1 campbell's select harvest soup 18.6-19oz
$3.99 bogo doritos chips
$2 mm o/j 64oz
$9.99/3 pepsi 12pks
$.88 bar s meat franks w store coupon
$5/2 fresh ex salad and get free nature sweet tomatoes 12oz bag
$1.99 stouffer's entree, panini or flatbread melt
$10/10 resers hash brown 20oz
$10/10 lawry's marinade 12oz
$2.49 oreo cakesters / chip ahoy
$10/10 smart / vitamin water buy 10 get 2 free final 83cents ea
$3.99 aquafina water 24 pk
$1.49 Clorox bleach 82-96oz
+ FREE Sunkist 2liter on Saturday
Start Clipping those Quaker coupons from Albertsons Value your heart booklet or purchasing some on ebay, because the Quaker sale is always H.O.T! Stay tuned for my normal post on matchups.