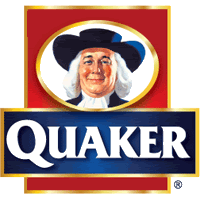 We knew it was coming..the amazing Quaker SALE!!! I hope you all were able to get some of the $3 off milk coupons from the Yokes ad a few weeks back. Also I found some $3/5 any quaker products tearpad coupons at Winco on Clearwater this past week too!
This Quaker sale is soooo sweet this time around. Nearly everything is $1 when you buy 5 at a time!!!!! Amazing!
I have to give a huge shout out to Fabulessly Frugal for sharing a picture of the Quaker part of the ad early for everyone. Here it is:
Let the drooling begin!!
You might want to call ahead to the store you go to and place a special order if you want tons. I might have to get 20 boxes of life cereal this time around, so I will be callin the store! They are GREAT about doing special orders and will hold your items in the back for you. Then I dont have to worry about my items being sold out at the store.
If I am able to combine the $3 off Milk from Yokes ad and the $3/5 any quaker products coupons my transaction will look like this:
Buy 1 Milk and 5 Life Cereals
-use Free milk coupon and $3/5
=Pay $2 for 5 Cereals and 1 Milk!!!
Oh baaaaby. I am so excited about this sale. It only comes around like 2-3 times per year. So stock up now folks. The sale starts tomorrow (Wednesday 1/27).
Here are a couple more coupons you might like to use with this sale:
Quaker Chewy Granola Bars $1/2 from 1/3 RP (JCPenny)
Quaker Oatmeal to Go Breakfast Bars .55/1 1/24 RP
Quaker True Delights or Fiber & Omega 3 Granola Bars $1/2 from 12/6 RP or .55/1 from 1/24 RP(if this kind is included in sale)
$1/1 Quaker printable coupon (possibly out of prints)
*New* $1/1 printable coupon for Quaker products : Go HERE and click on the "Get Started" sign. "Create Your Day" and when you are finished, click "Share your Day" and email a friend. After this you will be able to print out your coupon! (Thanks,Hip2Save!)
Just think…what if we were to get Twice the Value Coupons on Sunday too? My mind can hardly stand thinking about it!! Oh the free things we will get!
I am thinking about using dipps granola bars with each childs Valentines..hmmm..need to think of a witty saying to go along with them. Lets go for a dip?..no.  You're a Dip…  oooh very bad. Okay well, nevermind..I will just put Happy Valentines Day on them. Yeah. Happy Valentines day.
Anyways, Enjoy! Thanks again Fabulessly Frugal for the ad scan!!