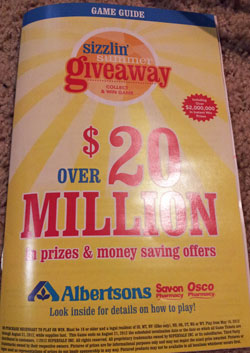 Found in stores is this new Summer Sizzlin booklet with coupons inside! Some store coupons and some manufacturers coupons. The manufacturers coupons go right along with this weeks instant savings promo sale. Here are the coupons inside.
Manufacturer's coupons:
$1/2 Lindsay Olives 6 oz. exp 6/16/12
$1/1 Truvia sweetener exp. 8/15/12
$1/2 Best Foods Mayo products, no size restrictions exp 6/16/12
$1/2 Dixie, Dixie Ultra or Vanity Fair plates, bowls or napkins exp. 6/16/12
Store Coupons
$1/1 Stockman & Dakota Pub Burgers exp 6/20/12
$2.00 off Wild Harvest Olive Oil when you buy Wild Harvest Pre-packaged salad exp. 6/20/12
$1/1 Essential Everyday Item $1.00 value or greater exp. 6/20/12
$1.50/2 Stoneridge Creamery Frozen Novelties  exp. 6.20/12
$0.50/1 Lofthouse Iced Cookies 10 ct.  exp. 6/20/12
$1/1 Culinary Circle Frozen Pizza & Breadsticks exp. 6/20/12
$0.50 lb. on 3 different pasta salad varieties up to 3 lbs. exp 6/20/12
$`/1 homelife 24 c.+ Forks, spoons or knives exp. 6.20/12
BG1 50% off Equaline sun care products exp. 6/20/12
Make sure and pick up one of these booklets next time you are in!