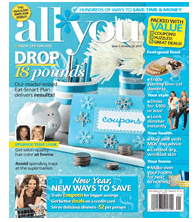 Hot Diggity! If you have been waiting for a great sale to get the All You Magazine make sure and take advantage of this deal. For those of you not familiar with the All You Magazine…it is a magazine that is FULL of great coupons!
Today only (July 26, 2011) Ebates is offering 52% Cash Back on magazine.com purchases. However they will only offer 26% cash back on the All You Magazine, but all other magazines will get you 54% cash back.
Best deal scenario today is that you will pay $34.00 out of pocket for a 2 year subscription, then you will get back a $10 Gift Card to a store of your choice, AND 26% cash back ($8.84). So a final price of $15.16 for 2 years of the All You Magazine (or like $0.63 per issue!!) That is a fantastic price!!!
To compare you could get 1 year of All You Magazine on Amazon right now for $19.95 with auto-renewal.
Okay…does this deal have your head kind of spinning? Let me walk you through it step by step.

1.) First thing you will want to do is sign in/or sign up for Ebates. Pick your $10 gift card (offer ends soon or even tonight I think…and then you will have the offer of getting $5 cash back only)
2.) In the search bar search Magazines.com. Click on the Magazines.com link and you will be redirected to their site.
3.) At Magazines.com in the search box type in "All You"
4.) Choose the $34.00 2 year All You Magazine subscription (you can also choose the one year for $19.97, however you will not earn enough for the $10 gift card promotion (as you must spend $25…) but doing the one year will mean you only pay around $1.00 per issue, so still a great deal.
5.) Add the subscription to your cart and checkout. You will pay the $34 or $19.97
6.) Then after a few days check your Ebates account. You should see the $10 bonus gift card you chose (if you're new and purchased the 2 year subscription) and a 26% cash back credit
This is such a hot deal I am thinking of getting another All You Subscription going just so I can get more coupons. There are often times great sales at the stores I shop at that go right along with the All You Magazine coupons.
"Happy" savings!