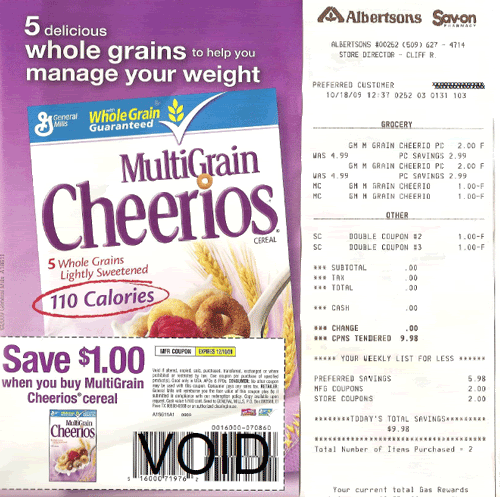 Another great doubler deal if you can find this coupon. Check out this receipt showing she spent $0 in the store! This happens with couponing all the time – Woo Hoo! Who ever said you cannot have anything for FREE?  🙂 This email/picture was sent to me by Yasmin, thanks for the email!
Location: Albertson's on Gage
Item: General Mills MultiGrain Cherrios (12 ounces) – 2 for $4 ($2 each)
Coupon: Save $1 when you buy MultiGrain Cheerios Cereal (expiration 12/19/09) (from one of Sunday's papers in September, given when samples were also delivered)
Doubler coupon used.
Final price: FREE!
I only had two coupons with me and so I only bought two boxes instead of three. Also, the Gage Blvd has the doubler fliers BUT behind the counter. I asked for one because I forgot mine at home and she went to the office to grab a stack then put them behind the counter.
Yasmin