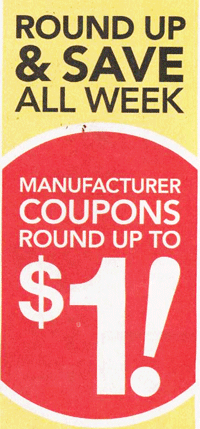 Yahooo!! This week  2/20 – 2/26 at Albertsons we can "round up" all our coupons to $1.00!!  Coupons valued at .24 or less will be redeemed at quadruple the face value. Coupons $1.00 or more will be redeemed at face value. Excludes FREE item coupons.  So if you have a $1.00 or more coupon it will not round up. Plus there will be no overage.
Here is a BIG LIST of UNADVERTISED DEALS found in store!!
[%printable-list:AlbertsonsRoundUp022013%]
You can also see some pretty amazing deals for rounding up your coupons in the ADVERTISED Round up list here as well.
PS – I would LOVE to see your round up shopping trips! Please email me your pictures and they might just make it here on the blog!