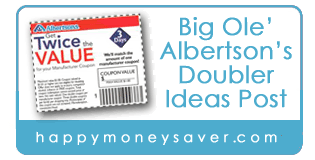 Woo hoo – we are going to get 3 Twice the Value coupons in the 1/27 Sunday newspaper!! You will have 3 days to use these – Sunday – Tuesday. Happy Savings!
Here is the big ole Albertsons Doubler Ideas post -many deals here are unadvertised.
Prices may vary from store to store on these deals.
New to Albertsons "Twice The Value Coupons? Click here for my Basic 101 post.

– I have marked my favorite deals with this star!
[%printable-list:AlbertsonsDoubler012713%]