Buy One Get One FREE Dr. Pepper Ten coupon!
This post may contain affiliate links. See the disclosure policy for more information.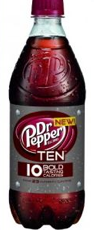 Hurry on over and print off this new hot coupon: Buy One Dr. Pepper Ten 16-20 oz. get one FREE! I'll admit, I do love me some Dr. Pepper!