Buy One Get One FREE Dr. Pepper Ten coupon!
This post may contain affiliate links, if you make a purchase or take action we receive compensation at no additional cost to you. See the
disclosure policy
for more information.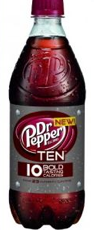 Hurry on over and print off this new hot coupon: Buy One Dr. Pepper Ten 16-20 oz. get one FREE! I'll admit, I do love me some Dr. Pepper!