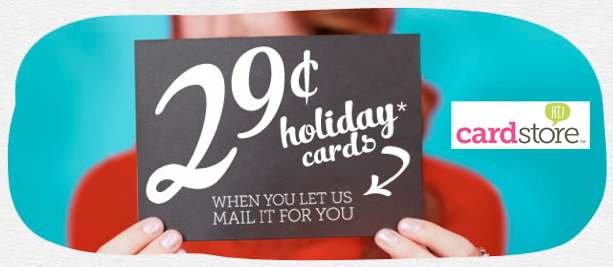 Get your photos out (or snap some of the kiddos today like me..hee hee) because this is the HOTTEST Holiday Card deal of the year! I consider this card deal better than FREE because you pay just $0.29 per card and you get FREE shipping to the recipients thus saving you the cost of stamps.
Cardstore is offering today only (11/16/12) $0.29 Holiday Cards + FREE shipping to the recipients!  For 1 day only, use coupon code CCN1629 to personalize, order, and send all of your holiday cards for just 29c each (plus free shipping)! The offer is only good if you pick the mail option "Mail for Me" during the checkout process. You can have them delivered right away, OR if you don't want your cards to arrive at friend's and family's mailboxes for another couple of weeks, they will let you pick your delivery date. The selection of cards is enormous. You can choose from Christmas, Hanukkah, Kwanzaa, Season's Greetings, or even New Year's Cards. So what are you waiting for?! Get that pesky to-do list out and cross off "Send Holiday Cards" today, and be stress free (until it's time to start cooking the turkey)!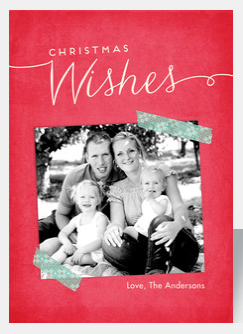 Usually I will get a sweet free card deal or go to Costco for photo cards, but I always have to still pay the cost of the stamp per card. That is $0.45 per card just in stamps alone. So with this deal its like they are paying me $0.16 for each card. This will save me so much time.  Plus I used Cardstore.com last year for my Christmas cards and the quality is wonderful.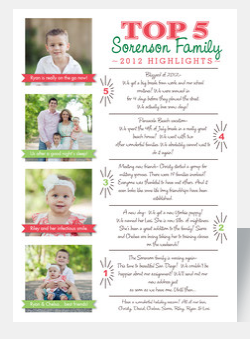 They also have card templates that are sort of like a Christmas letter – where you can customize high-lights from the year like this one above.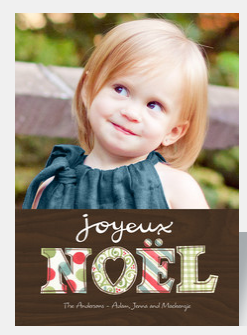 There are thousands of cute card choices to choose from.
To get this deal go to Cardstore.com

Choose your card and design it.

Choose FREE shipping to the recipient.

Add your addresses of the recipients.

At Checkout enter promo code CCN1629 which makes each card just $0.29

Choose when you want them mailed out..and thats it! Your cards will be mailed out to your recipients.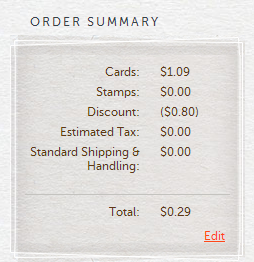 Note: I will be leaving this post at the top of my blog all day long since I really want everyone to see it, but check below this post for new and updated deals throughout the day.