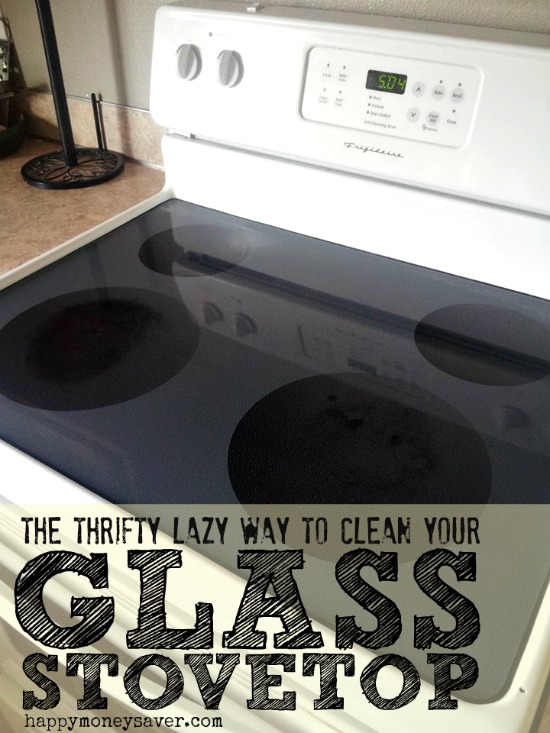 You would think that since glass stovetops are flat, they would be easier to clean than traditional stovetops with their metal rings and drip pans. I think they are to a point, but it's not as easy as just wiping down the surface of the glass. As many of you who own these kinds of stoves know, the food you cook can boil over. This leaves pesky scorch marks and gunked up food…which then burns into a nasty hard to clean mess. I could go on for days and complain about how I really dislike cleaning my glass stovetop. But instead I will show you how I clean it. For my hate turns into a big love when it's clean. Because when it's clean… it's BEAUTIFUL!
The question is how do you get it that way, especially if you've been neglecting it for a while and have lots of burned-on food (not that I would ever do that *wink, wink*)? Okay, maybe I do. See the evidence below. I am so ashamed!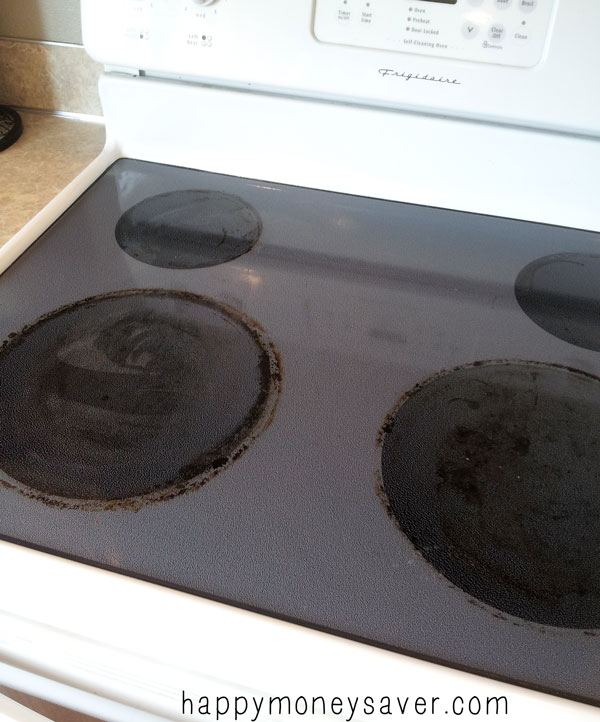 After trying different methods to get my stovetop sparkling, this is the best way I have found to clean your glass stovetop.
Here's what you'll need:
Here's what you'll do: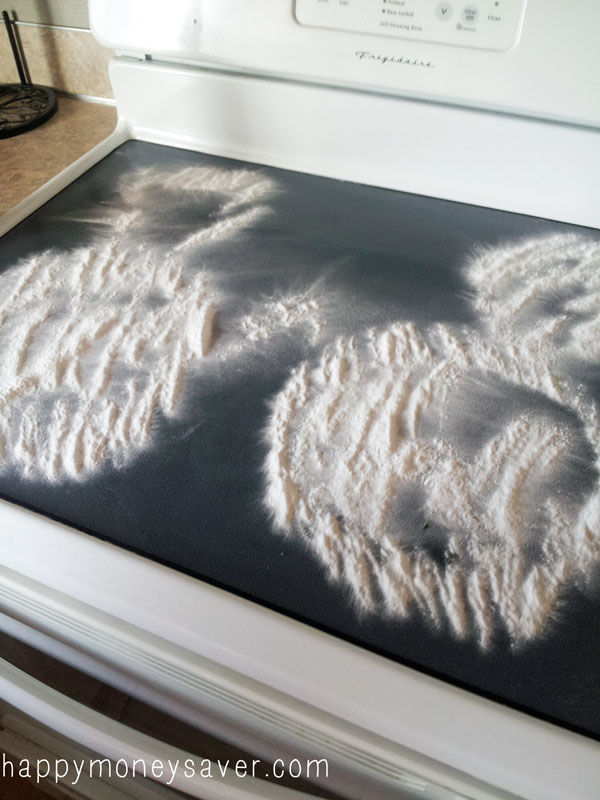 Sprinkle baking soda all over your stovetop. Want to know a neat trick I found? Keep your old parmesan cheese containers (you know the ones you get near the pasta with grated parmesan) and put the baking soda in them. It will help with sprinkling baking soda, so it's not all clumped together.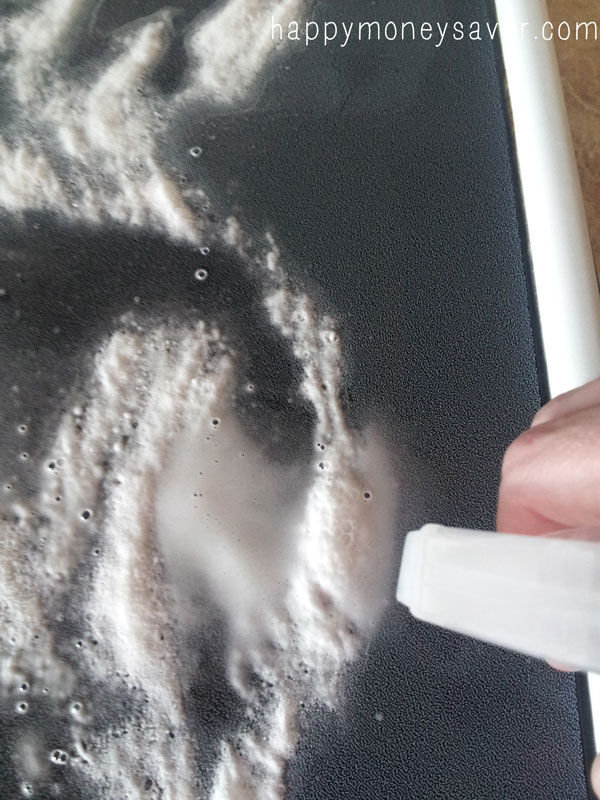 Spray the surface with vinegar. Wet the entire surface and let sit for 15 or more minutes while you let it do its thing.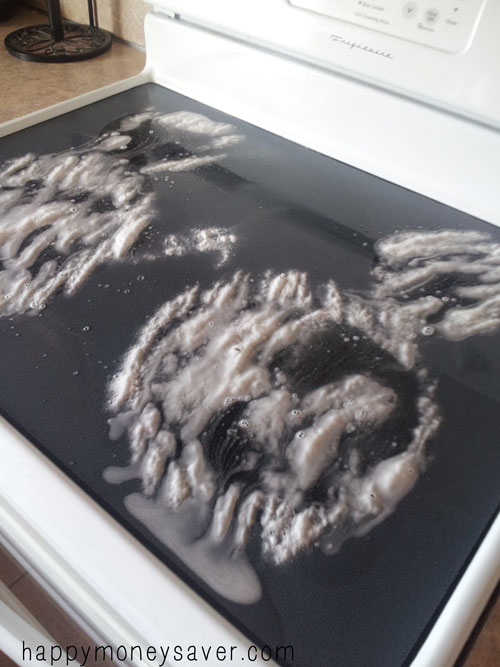 Wipe down with a wet towel or washrag.
If there is still burnt food left on the cooking surface, use a razor scraper to scrape this food off. Caution: Do so very carefully to avoid damaging the stovetop.
If you don't have a razor blade, and it all didn't come off in the first soaking. Reapply it again. Especially if it's really bad like mine was at first. I did this process three times without any elbow grease or hard work and it all came off mine. But if you have a razor blade it will make it so much faster.
Tips:
Never clean a stovetop when it's hot.
For stains that are harder to remove, try using magic eraser (such as Mr. Clean or the like),
To avoid the need for a razor scraper, try to clean up spills right after they happen. This can be hard because you have to remember to go back once the stovetop is cool to clean it. Try setting the timer on your stove to help you remember. If this isn't possible then clean your stovetop before the next time you use it.
So here is my beautiful finished clean glass stovetop. It's so nice when it's clean. All is well with the world.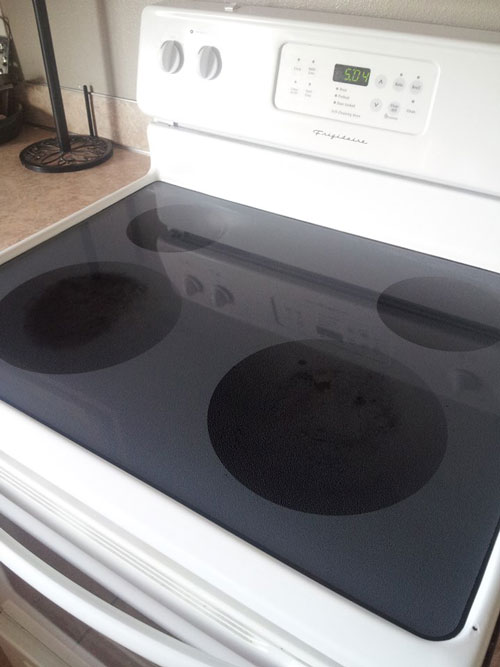 Do you have any tips for cleaning glass stovetops? What other methods have you tried?