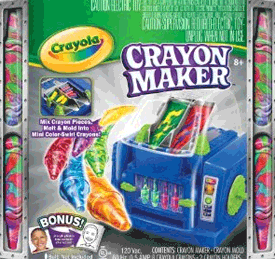 Looking for a fun, creative gift idea? Head over to Amazon and check out the Crayola Crayon Maker with Story Studio – it's on sale for just $21.99 (reg: $39.99). You'll also get FREE shipping with Amazon Prime or with an order of $25 or more.
Features:
Create mini color-swirl crayons
Unique dual-ended crayon holder
Clear hood allows kids to watch while crayons melt
Melting and molding is fun for kids
Create fun color combinations by melting worn crayons into new color swirl mini crayons
This would be a great way to chase away those mid-winter blahs! 😉
Disclaimer: Amazon prices can change quickly. This price was current at the time of this posting.