Looks like Walmart is having a Dr. Seuss book sale. Some are as low as $2.65 and they all come with Free Shipping! These books are so wonderful!
Books listed at $2.65:
Hop on Pop 
The Eye Book
The Foot Book 
Ten Apples on Top
Theres a Wocket in my Pocket 
Mr. Brown Can Moo Can You?
Are you My Mother
ABC
Ten Apples Up on Top
The Shape Of Me and Other Stuff
The Tooth Book
Inside, Outside, Upside Down
Go Train, Go
Big Dog, Little Dog
Put me In The Zoo
The Nose Book
 Books in the $4 Range
Happy Birthday To You
All Aboard the Circus McGurkis
Green Eggs and Ham with Stickers
One Fish Two Fish Three Fish Four Fish, Five fish
My Many Colored Days
Hop On Pop-Up
 Books in the $5 Range:
Fox in Socks
Dr. Seuss's ABC 
The Cat's Quizzer 
Great Day For Up 
In a People House 
Wacky Wednesday
Hooper Humperdink 
Oh Say Can You Say
I am Not Getting Up Today
There's a Zamp in My Lamp
Wet Pet Dry Pet Your My Pet 
I Can Read with My Eyes Shut
Oh The Things You Can Think
The Cat In The Hat Comes Back
Would You Rather Be a Bullfrog?
On Beyong Bugs:All About Insects
Wish For a Fish:All About Sea Creatures
Marvin K. Mooney Will You Please Go Now
Please Try To Remember the First of Octember
One fish, Two Fish, Three Fish, Four Fish!
There are also 7 Dr. Seuss Books with CD's to choose from that only cost:  $5.50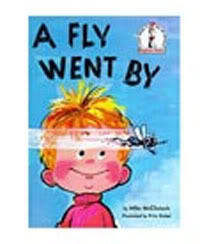 My favorite Dr. Seuss Book is: A Fly Went By. I still remember being a kid and really enjoying the fun pictures and how each animal was afraid that the other animal was out to get them. The fear they had made them do foolish things. I love how the boy was the only one fearless enough to confront each animal and get to the bottom of it. I really love that story. What is your very favorite Dr. Seuss Book? Everyone has one. I would love to hear what your favorite is and why.