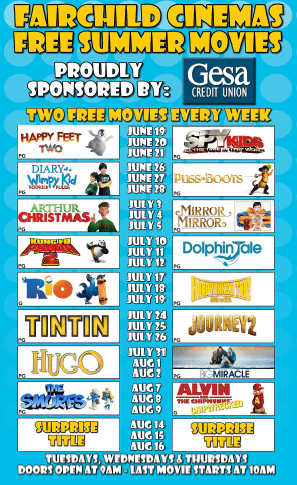 One of my favorite FREE things to do in the summer with my kids locally is the Fairchild Cinemas FREE Summer Movie program for kids. You can find our Fairchild Cinemas in Pasco, WA and Moses Lake, WA. They are the only theater in my local city offering up FREE movies for kids.
They will be playing the free movies every Tuesday, Wednesday and Thursday. Doors open at 9am and as each theater gets full it will start. Last movie starts at 10am.
Here is the link to the  2012 Fairchild Pasco Free Movie schedule.
Here is the link to the  2012 Fairchild Moses Lake Free Movie schedule.
Addresses of these Fairchild Cinemas:
Pasco Fairchild Cinema
5020 Convention Drive
Pasco, WA 99301
Moses Lake Fairchild Cinema
233 N Block St
Moses Lake, WA 98837
Thanks Fairchild for this amazing free movie program – its so fun to take my kids to a real movie at the theater!