As some of you might remember I am the blogger correspondant for the Simon Columbia Center Mall. This month they decided to gift me with a $50 gift card to look around the mall for something fashionable for Spring! How nice of them, right?  (Thanks Simon malls!) What I really have been wishing for is a pair of  Toms shoes.  Toms are just cute, comfortable and go with anything!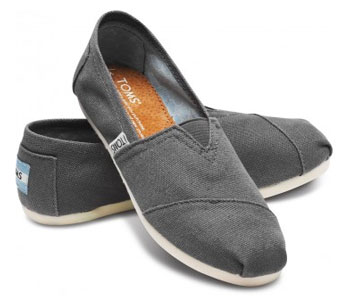 However Toms can run from $40-$50+ and I didn't really want to spend that much money for a pair of shoes, even if that money was given to me for free. I like using any money I get as wisely as I can – to make it stretch as much as possible.
Lucky for me while I was wandering around the Columbia Center Mall I stumbled upon a store called Tillys.  I found some knock-off shoes that were just like Toms at half the price!! These little navy ones below only cost $19.99!  Woo hooo!! Plus I also got the cute striped shoes pictured above as well for $25. Very cute, very nice for spring as I can wear them with just about anything.  I am in LOVE!   (Oh and note: I did have a 20% off coupon for my shoes too – score!)
So next time you are in the mall make sure and check out Tillys store and get yourself a nice thrifty pair of knock-off Toms. They are the most comfortable shoes ever! 🙂
Now onto today's fashion board.
Old Navy Summer Fun Sets!

[pinit]
I needed some cute outfits to go with those shoes!  Plus there are so many options with this outfit set! You could use the scarf as a wrap around your swimsuit, in hair or even as a belt! I am so in love with that cute swimsuit blue polkadot tankini set.
The majority of these items are Old Navy! Go on into the store at the mall or shop online!  *Coupon code* through today 3/6 only use promo code THANKYOU at checkout to get 30% off your entire purchase.   Or if you going shopping in store  you can get a $10 off your $40+ purchase printable coupon good through 3/7 –  go here to get your coupon.
Women's Off-Shoulder Chiffon Blouses– $28.94
Women's Chiffon Tassel Blouses– $19.00
Women's Perfect Rib-Knit Tanks- $8.50
Women's Denim Capris (22″)– $29.94
Women's Southwestern-Print Scarves– $16.94
Women's Mix & Match Ruffle Tankini Tops– $24.94
Women's Mix & Match Bikini Bottoms- $14.94
Women's Mix & Match Tankini Tops– $19.94
Women's Mix & Match Boy-Short Bottoms- $19.94
Tilly's – SODA Madie-S Womens Shoes-$24.50
So…if you got the capris, the teal tanktop, the yellow shirts, polkadot tankini + bottoms,  and the scarf, you would be looking at just $83.48 + tax after 30% off discount! Woo hoo – you will want to hurry and use the promo code today though to save all that money.   Oh and you could add in the shoes if you liked and be just a little bit over $100 for a really cute outfit for summer.
Happy savings!