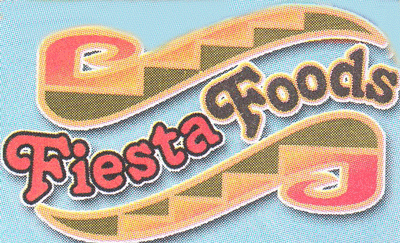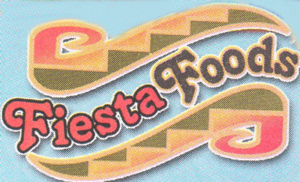 The Coupons for Fiesta Foods this week are: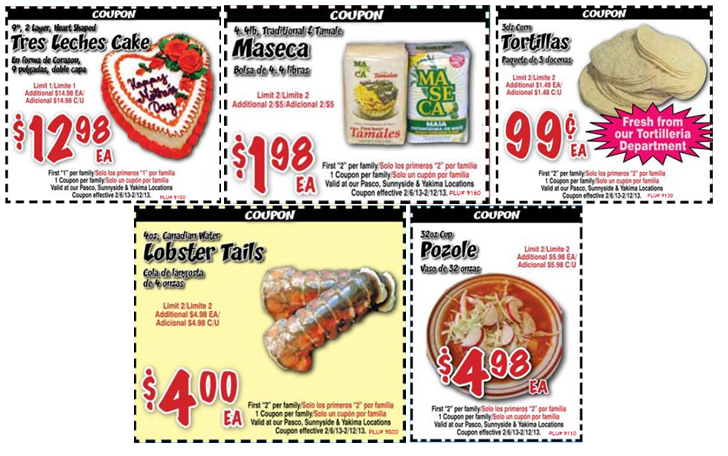 View the weekly Fiesta Food Ad.
Top Produce Deals:
Asparagus $1.88 lb
Large Tomatoes $0.58 lb
Medium Mangoes $0.58 each
Potatoes 10 lb bag $1.88 each
Honey Dew Melons $0.48 lb
Pears $0.88 lb
Pink Lady Apples $0.88 lb
Baker Potatoes $0.18 lb
Honey Tangerines $0.98 lb
Top Meat Deals:
T-Bone Steak $3.98 lb
Pork Shoulder Roast $1.18 lb
Chicken Hind Quaters 10 lb bag  $0.68 lb
Pork Steaks $1.58 lb
Bacon 16 oz $1.98 each
Sirloin Pok Chops $1.68 lb
Bottom Round Roast $2.48 lb
Other Great Deals:
Fanta Soda 20 oz $0.98
Darigold Sour Cream 16 oz $1.28
Western Family Soda 2 liter $0..78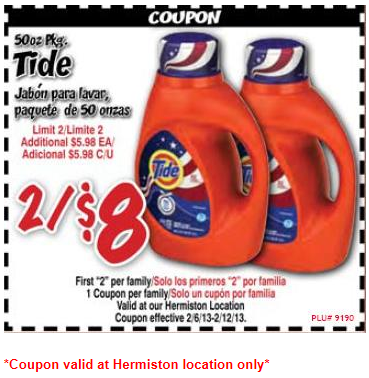 If you live near Hermiston you can score Tide 50 oz for $3.25 each, if you have this coupon
$1.50/2 Tide Detergents, Tide Boost or Downy, exp. 2/28/13 (P&G 01/27/13)
Happy money saving at Fiesta Foods! Remember (excluding meat) Walmart will match all other stores prices such as Fiesta Foods, and Yoke's will price match in-ad coupons from other grocery stores.