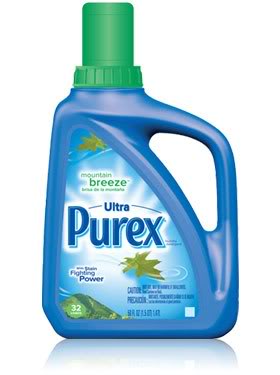 Wow…this is amazing!! Frugal Chic Living shared this great deal on Purex Laundry Detergent going on right now at Fred Meyers. I LOVE it!!
Purex Laundry Detergent 50 oz. (Buy 2)@ $1.99 each with in ad coupon
use –$1.00 Printable (for Natural Elements only) or $0.35 off from 1/10 RedPlum x 2
=As low as $1.98, Get back a $4.00 catalina for buying two 50 oz Purex!
Even if you dont have any manufacturers coupons you would still get this free after catalina! And it should roll, meaning you can buy 2 at a time, then next time use the $4 catalina to get the next set FREE, then get $4 catalina again. Rinse & Repeat!
If your Fred Meyer is all out make sure and get a raincheck as this catalina deal goes on until March 7th!!
Thanks so much Frugal Chic Living!
Update: Some people are getting this, and others have had some trouble. Make sure you are getting the 50 oz size, not the bonus sizes as the bonus sizes are not producing the catalinas. If you did not get your catalina call the Catalina company at 1-888-8COUPON and they will be able to send you your catalina in the mail.