Fairchild Cinemas in Pasco,WA is the only place in town for FREE movies this summer for kids!! This week in the Tri-Cities you can see Alpha and Omeag or The Karate Kid (both rated PG). If you are in Moses Lake the movie this week is The Karate Kid!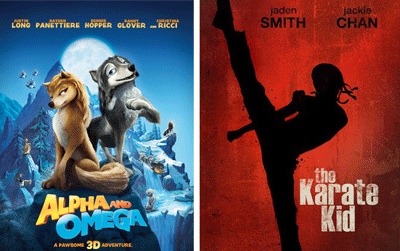 They will be playing the free movies every Tuesday, Wednesday and Thursday. Doors open at 9am and as each theatre gets full it will start. Last movie starts at 10am.
Pasco Fairchild Cinema
5020 Convention Drive
Pasco, WA 99301
If you want more details about upcoming FREE movies at Fairchild Cinemas see my main post here.
We have now gone each week so far this summer and my kids really enjoy their free movie!! Thanks Fairchild!