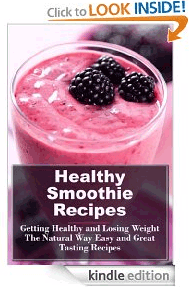 Today 10/3 only, download your FREE copy of Healthy Smoothie Recipes: Lose Weight and Get Healthy Today (Healthy Recipes)
.
This Kindle e-book is filled with tasty smoothie recipes like:
Morning Call Smoothie
Off To Work Smoothie
Melon Lemon Smoothie
Green Tea Smoothie
Pomegranate and Blueberry Smoothie
Apple Berry Green Smoothie Recipe
Hawaiian Smoothie
Bahamas Smoothie
Kiwi and Berries Smoothie
Perky Smoothie
Banana Split Smoothie
….and more!
Each recipe is designed to delight your taste buds and help you lose weight – naturally! Hurry, this freebie is only good through today 10/3 only.
Thanks, Wendy!
Disclaimer: Amazon prices can change quickly. This price was current at the time of this posting.