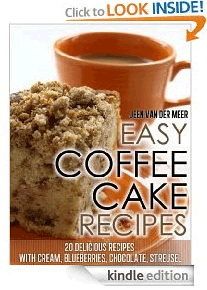 Yum! I could really go for some scrumptious coffee cake right about now! 😉 In fact, I think I just might have to whip up a batch after reading through this freebie…
Head on over to Amazon and download a FREE copy of Easy Coffee Cake Recipes – 20 Delicious Recipes with Cream, Blueberries, Chocolate, Streusel
.
Each recipe is super-easy to make and takes very little time to go from oven to table. Get ready to delight the taste buds and fill the house with the warm, delicious smell of fresh baked coffee cake!
Thanks, Common Sense with Money!
Disclaimer: Amazon prices can change quickly. Before making your purchase, please be sure to check that the price is the same as the price posted above. This price was current at the time of posting.