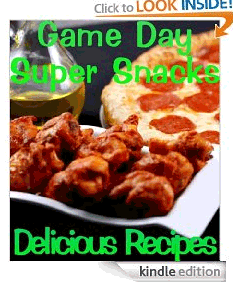 Gear up for your next party or big game with this HOT freebie from Amazon! Download your FREE Kindle edition copy of Party and Game Day Super Snacks (Delicious Recipes)
.
This ebook features more than 100 fast, easy and delicious snack recipes like Mini Cocktail Meat Balls, Coconut-Orange Shrimp, Deviled Eggs to Awesome Fried Pickles, Chicken Wings, Ribs and Turkey legs and Wings, Dips and Salsa and Crock-pot recipes.
Thanks, Mojo Savings
Disclaimer: Amazon prices can change quickly. This price was current at the time of this posting.