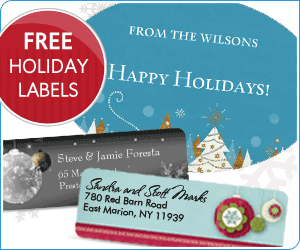 Vistaprint has this hot FREE return address label offer back again! Today through Friday (10/16), you can get 140 return address labels for just the price of shipping, which is around $3.69!
You can make return labels with your addresses:




Or consider using this offer to make a thrifty "Merry Christmas" teacher gift. I always like to have my children give their teachers a nice little thank you at Christmas time. Some adorable labels for the teacher to add to her books would make a very thoughtful gift.


You could also make labels if you are planning on delivering goodies to friends and family around the holidays.

Seriously, the possibilities are endless of what you could do with these labels.
How to create your labels:


Go to Vistaprint and choose your label. There are kajillions of options here – you can sort by category if you know what style you are looking for.

Once you have your label start creating it. If you want a different font or size of print use the Advanced Edition option.

Head to checkout. After clicking through all the "extra offers" if you add more items your shipping total will increase. Select the least expensive shipping and pay. No promo codes needed – but this offer is only good for the next 3 days only.