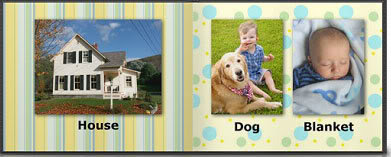 Picaboo is offering a free 20 page photo book good through 3/31 or while supplies last. This book normally retails for $39.99 but you only have to pay shipping costs if you hurry. I took my 18 month old to the Doctors yesterday and the Doctor told me that my daughter is a little behind on her speech. So, like the picture above, I am going to make my daughter a "first words" book. Isn't that a fun idea? Hopefully if she see's pictures of things in her own environment she will make a better connection with the word and the picture. What kind of photo book are you going to make?  Here's how to get yours:
Go here to download Picaboo's software.
Start making your book
At Checkout, enter in code:

AFFLGB

Wa-la, you are done. The book is free, you only have to pay $8.99 for shipping and it will be on it's way to your house shortly!
Thanks for the heads up on this deal She Saved!
Also dont forget that it's a new month and you can get your HotPrints photobook for free with Free shipping!