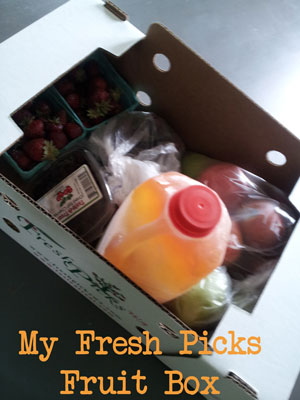 I am super excited to share with you this amazing box-a-week produce CSA called Fresh Picks WA.  Basically you choose what type of box you want to get each week – there is a full fruit box and a fruit & vegetable box option.  They drop off your box at the location of your choice on the website. The boxes have $25 worth of fresh local produce inside (and they were SO delish!)   If you purchase a single week the price is $22.00. Then there is a 4 week option ($20/week) or three month option $18.00 a week.  They also have great prices for box quantities of the produce they grow – hello canning season!!  You also have the option of ordering a second box if you want more.
Here are the different drop off  locations that are available. Tri-Cities, Moses Lake, Connell, Basin City and Othello are all areas that Fresh Picks WA delivers to.

On their website you will see what will be inside the different boxes available that week.  And on their Facebook page they post specials, new products in season and other fun tips.
So what did I get in my first box?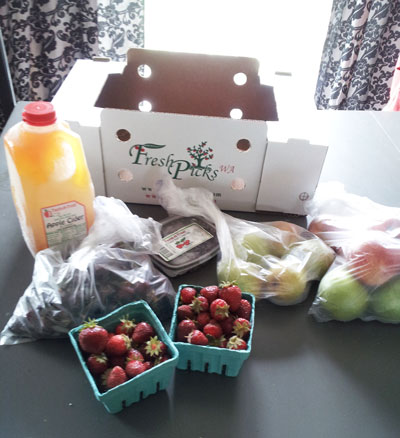 I ordered the full fruit box option. When I arrived to pick up my box it looked SO good. There was a jug of Apple cider, fresh pears,  a bag of mixed color apples, some cherries, strawberries and some dried cherries.  When I was picking up my all fruit box I noticed the mixed fruit/vegetable box and started feeling like maybe I should have picked that one! It had asparagus in it and some red potatoes- my favorite. But alas, I stuck with what I had ordered. But next time I might just have to get the mixed….
My review –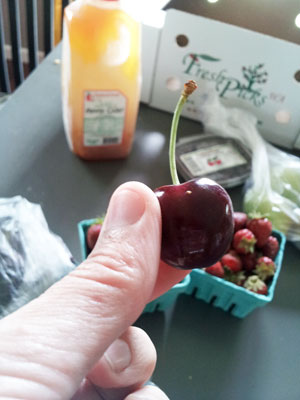 I was most excited about the sweet red cherries. It seems like the past few years I haven't purchased cherries because the price as been too high per lb.  When I got home and ate one though, I was in heaven. Seriously the SWEETEST cherries I have eaten before. They were perfect in every way.  My favorite item in the box for sure.
The apple cider was really yummy. Super sweet and it felt great knowing it was local. The apples were in perfect condition. The pears were divine. Not quite ripe yet, which I liked – so I could wait for them to get to the perfect ripeness before eating. The strawberries were really ripe though.  They were perfect the first day or two, but by day 4 on my counter they were just too ripe and some started to rot. If it wasn't for the cherries taking all my attention I am sure these wouldn't have had time to ripen so much, but I did wish they were a little less ripe when I bought them. So I would suggest freezing some items if you know you aren't going to eat them within a week. As for the local organic dried cherries? Oh my…so wonderful. Perfect for me to add to my homemade trail mix. Yum!
Overall, I absolutely LOVED my box. This whole idea of getting fresh local produce on a weekly basis is really awesome.  I wouldn't have necessarily purchased these items myself this week at the stores, but it was fun and almost adventurous. What will happen when I get an item I don't know what to do with? That will be the adventure.  Plus I like the idea of cheap-skate me..bringing in a whole box of fresh produce to my home.  I will be signing up for this for sure! I would recommend Fresh Picks to all my local friends and readers too.
Check out FreshPicks.com to sign up and get more information. 
Thanks Fresh Picks for letting me try out a box and thanks to my readers for letting me share! Are any of you doing Fresh Picks produce program currently? Are you liking it?