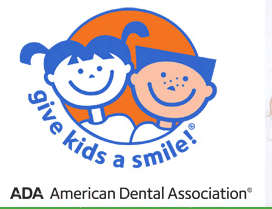 This Saturday, Feb. 1st  is the American Dental Association's Give Kids a Smile Day. During the event, dentists and other team members volunteer their time and services to provide oral care screenings, dental treatments and education to children throughout the United States. Each year, approximately 450,000 children benefit from the more than 1500 events happening nationwide.
Due to the popularity of these events, it's best to call your nearest participating dentist/dental clinic FIRST to see what sort of registration (if any), etc is needed for the event.
To find a participating Dental Clinic or Dentist near you, click here.
Locally in the Tri-Cities our free day is Saturday February 2nd – and the participating offices are :
Dentistry for Kids 585-5437 (3711 W 27th Ave, Kennewick)

Columbia Basin Pediatric Dentistry 783-1960 (7501 W Deschutes Place, Kennewick)