2 Winners will get a $35 Value Advocare® Gift Package!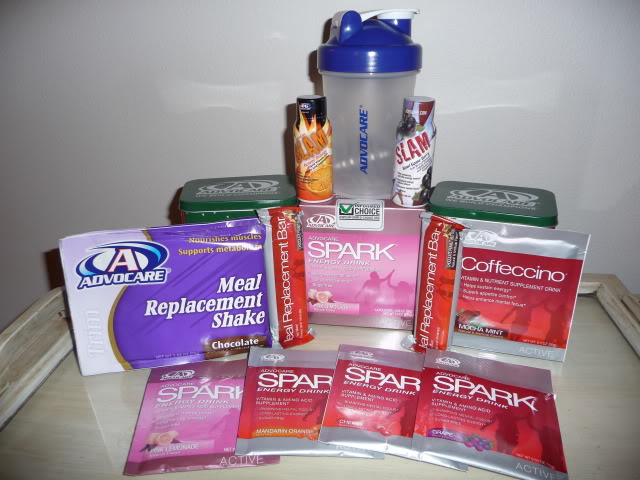 What is Advocare®?  Since 1993, AdvoCare® has been a world-class nutrition company specializing in health and wellness, weight management, vibrant energy and sports performance.
I tried a few of the items out myself and I LOVED the chocolate peanut butter meal replacement bars. So yummy! Of course anything that has chocolate in it (…well you know) I cannot resist. That Spark product is pretty amazing too…it helped keep me focused on Cyber Monday when I was posting all those deals all day long! Thank you Spark! Great product.
The items in the Gift Package to win will be :
Advocare mixer bottle for the meal replacement shakes
(3) Chocolate flavored meal replacement shakes (can be mixed with water or fat free milk)
(2) Chocolate Peanut Butter Meal replacement bars
(4) Samples of our the #1 selling product in the company – Spark
(2) Slam's – energy drinks –
(1) Mocha Mint Coffeccino drink
Advocare rep Jenna chose these Advocare items because these are the items she uses almost everyday! She has the meal replacement shake or a bar for breakfast everyday- so she is giving the winners a 5 day supply.   Jenna and her husband Nic have lost 52 pounds together in just over 75 days on Advocare!  Jenna has lost almost 10 pounds herself and she is thrilled! Not only are they both feeling much better about themselves, but they have found energy that they desperately needed.
To read more about Advocare visit Jenna's website at www.meetnicandjenna.com and feel free to email her with any questions at [email protected]
What do you need to do to enter?

To enter the giveaway just leave a comment! I would especially love to hear about whether or not you have tried Advocare products and if so what your favorite one is. 

You can earn extra entries by leaving an extra comment for any or all of the following:

1.) Leave a separate comment if you are an email subscriber of Happy Money Saver (New subscribers: make sure you confirm your subscription by clicking on the link that will be emailed to you)

2.) Leave a separate comment if you "like" Happy Money Saver on Facebook

3.) Leave a separate comment if you have shared Happy Money Saver with your Facebook friends. (just click on the "Suggest to Friends" under the Happy Money Saver logo on Facebook)
This giveaway will go until Friday December 10th 9am PST. Make sure you leave your comments on this blog post in order to be entered for the giveaway. (Come to this post on happymonysaver, click on comments. Enter your name, email address and Comment.) Good Luck to All!!