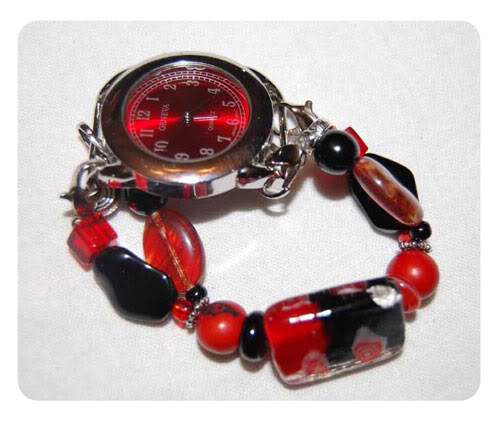 Its the second day of Fistfulofcoupon.coms Big Birthday Celebration week!
 Wristful Thinking is giving away
 One Interchangeable Watch
to one of my lucky readers!!
Wristful Thinking is a new beaded watch company formed by 2 stay-at-home mom's in Idaho.  These are fun, unique watches that can complement any outfit!  Any Watch Band is easily interchangeable with any of the watch faces (simple lobster clasps attach the bands to the faces) so you can mix and match to fit your exact style.  The unique thing about Wristful Thinking's watches, as compared to some other beaded watches, are that rather than using really large beads and being completely  double banded, most of their watches have smaller and flatter beads with the 2 bands meeting to become one in the middle.  This makes them comfortable, and wearable for all types of daily activities.
I think these are charming and adorable.  I just noticed someone wearing one of these beaded watches at church on Sunday. And the thought came to my mind to remember to tell my hubby about these. Valentines Day is coming up very soon you know.  
And a watch from Wristful Thinking would be the perfect gift. So many beautiful designs to choose from.  If you are the winner you would get your choice of a watch set (including the watch face and the beaded band). This is a value of $30!  
Special: If you buy 2 bands and the watch face you can get that for $45!  That is a $5 savings! Plus you can mix & match with the bands. I think that is a great value. Remember, Mothers Day is coming up soon as well. I know my mom would LOVE one of these.  
To Enter this Giveaway go on over to Wristful Thinking , look around and then come back here and tell me in a comment below which watch band & face  is your favorite. 
Example: My favorite one is this one (#15) because I love the animal printed bead in it. Plus the browns would look good with a lot of the items I wear! 
Want a few Bonus Entries too? After you have done the mandatory first comment about your fav watch style you can do these things here for extra bonus entries:
  1) Become a subscriber via Email or Feed . Then come back and leave a separate comment that says "I subscribed!" If you already subscribe, thank you and give yourself the extra entry. 

2) Add my button to your blog! Then come back here and leave a separate comment that says "Blog button". If you already have my button on your blog, thank you and give yourself the extra entry. (To get my button look on my sidebar. Copy the HTML code and paste it in your layout of your blog.)
3) Go on over to Wristful Thinking and purchase a watch. If you purchase a watch you can have 3 extra entries! Just say "I purchased a Wristful Thinking Watch"  on three separate comments!
 This giveaway will end on Febuary 1st at the stroke of midnight PST. I will pick a winner using random.org.  Good luck to everyone!