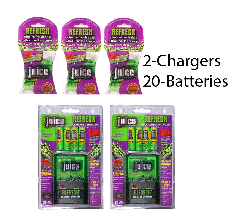 This looks like a sweet deal to me! At Graveyardmall.com today's daily deal is for 2 Juice Refresh Chargers and 20 Rechargeable Batteries for $9.99! I am always needing batteries and love doing the rechargeable thing to save $$.
Bundle Includes:
2 – Juice refresh charges
20 Rechargeable Batteries (16-AA & 4-AAA)
Juice Refresh Rechargeable Alkaline battery system offers the high performance characteristics of throw-away alkaline batteries together with the low cost and environmental benefits of a rechargeable system.  Juice represents a new standard in value and performance and an unprecedented improvement over present throw-away alkaline and many rechargeable technologies currently powering consumer battery operated devices. 

Juice Refresh Advantages
Low cost
Batteries come fully charged and ready to use right out of the package.
Nominal 1.5 Volts versus other 1.2 Volt rechargeable systems for better power.
Chargers work with AA & AAA Rechargeable Alkaline Batteries
No memory effect – recharge any time.
Excellent performance in intermittent use products
Don't self discharge like NiMH & NiCD
Mercury and Cadmium free
Can be disposed of in normal household waste
Recharge up to 100 times
AA (2000 Mah) – AAA (750Mah)
Plug in to any outlet
While NiMH & NiCD batteries are great in high drain electronic devices, most self discharge an average of 20% to 30% per month (even Lithium Ion batteries self discharge at a rate of 10% per month), making them poor choices for intermittent use devices like TV remotes, Smoke Alarms, Clocks, Emergency Flashlights and any device that gets used over time.  Plus, unlike their toxic counterparts, Alkaline can be thrown away in your every day trash.