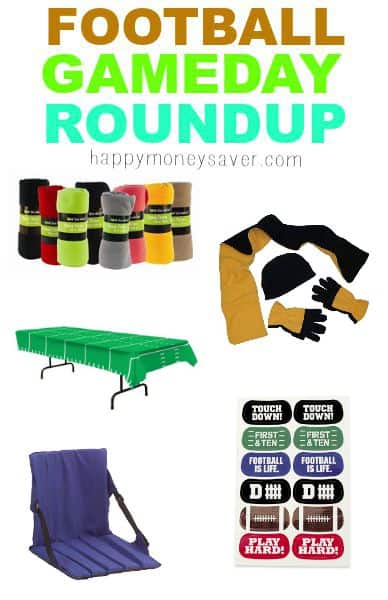 Fall is in the air and that can only mean one thing…..football! I absolutely love football season. It is so fun to get together and watch football games with friends and family and have great food and visit. Along with the food though you must be decked out in some of the coolest football fan gear and I have got you covered. Come check out my football fan gear and to make it even better it's all affordable. All these items will help you support your team whether in the stadium or at home.
Football Fan Gear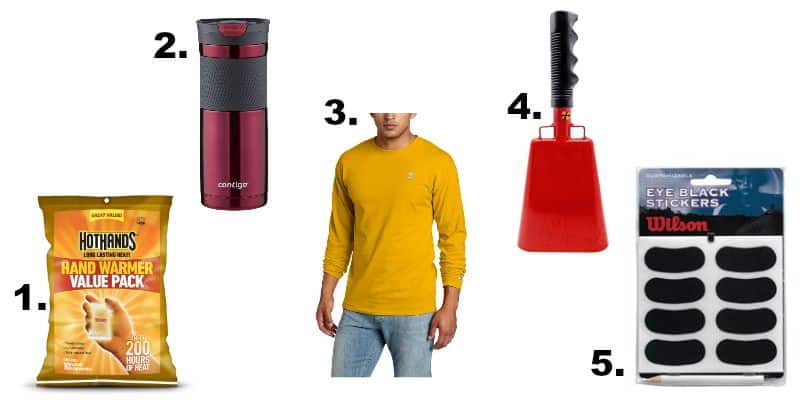 1. These HotHands Hand Warmers 10 Pair will be sure to keep your hands warm on those cold nights watching football and are priced at only $5.00.
2. This Contigo SnapSeal Vacuum-Insulated Stainless Steel Travel Mug, 20-Ounce is priced at only $9.84 and will definitely help to keep your warm liquids warm during the long game.
3. Support your teams colors with these Champion Men's Long-Sleeve Tees. They have a few different colors to choose from and are only $15.99.
4.  This Cow Bell by Stewart Trading will definitely allow you to make lots of noise at the football game. It is priced at $24.99 and has lots of different colors and sizes to choose from.
5. Complete your look with these Wilson Eye Black Stickers for only $6.57. They aren't messy and come off easily and will make you look like a true football fan.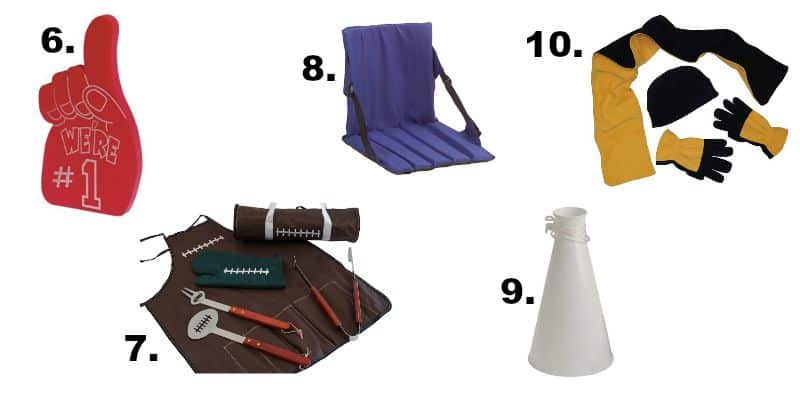 6. This Foam Number 1 Hand is sure to get you noticed in the football stands and is only $5.45.
7. This All American Football BBQ Set would be the perfect gift for the man in your life to take tailgating. It includes all the bbq essentials for only $19.99.
8. Sitting for several hours at a football game can really make your back ache so pick up one of these Coleman Stadium Seats. They are priced at only $14.99 and will definitely help you feel more comfortable watching the game.
9. This Megaphone/White will definitely help save you from loosing your voice while screaming for your team. Pick this up today for a price of only $4.58.
10. This N'Ice 2 Ply Micro Fleece Beanie/Scarf/Gloves Set is only $18.99 and will be sure to keep you warm at those super cold games.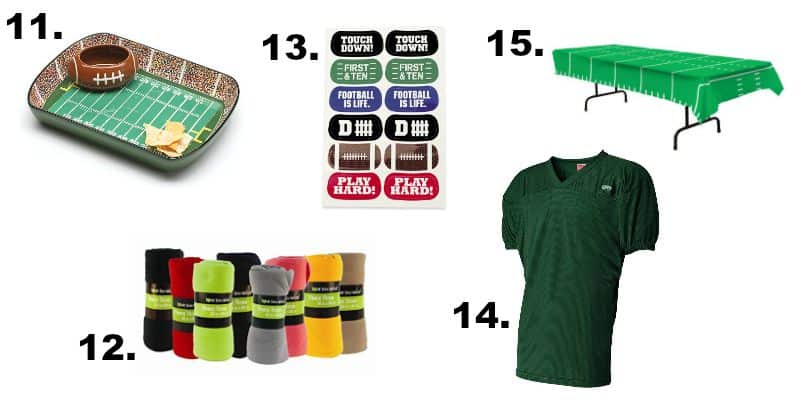 11. This Football Stadium Chip And Dip Sports Serving Set will be the perfect addition to your home football parties. At only $25.00 this piece will be sure to catch everyone's eye.
12. Having a Cozy 50 X 60 Fleece Blanket on those chilly nights is a must. This comes in a few different colors options and is $7.95.
13. You need to have these Football Face Tattoos to really show your true football spirit. It comes with 6 sheets and they are only $5.25.
14. This Rawlings Men's Fj55Fe Football Jersey is a great basic jersey that you can get in your teams colors to show your support. It has a good fit and is comfortable at a price of $29.50.
15. This Game Day Football Tablecover Party Accessory is a very simple accessory that you can add to really make your home football party awesome. It is only $6.84 and will really complete your table decor.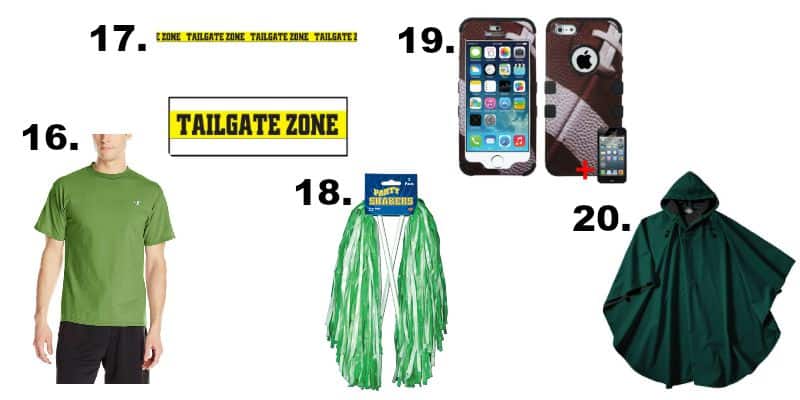 16. This Champion Men's Jersey T-Shirt comes in a variety of colors and is only $10.38. Find one in your teams colors and support your team.
17. Tailgate Zone Party Tape Party Accessory– At only $4.38 purchase a few rolls of this awesome tailgate tape to decorate your car for those pre-game tailgate parties.
18. These Pkgd Green & White Poly Shakers are only $3.90 and are a super fun accessory to own to show your football spirit at the games.
19. This APPLE IPHONE 5 5S BROWN BLACK FOOTBALL COVER is perfect to put on your phone at the start of football season. You can't beat a price of only $8.66.
20. This Charles River Apparel Pacific Poncho will definitely be something you want to have at those rainy football games. This has great reviews and will definitely keep you dry at a price of $22.40
Now that football season is in full swing go grab some of these items to help you at your home parties, tailgating and on game day. This list will help you get some great football fan gear on a budget!! Happy Shopping!