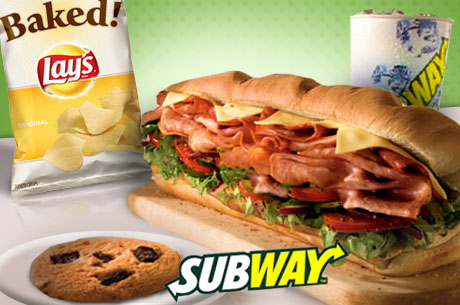 For all my dear Seattle readers, there is a screaming deal just for you today!  Eversave is launching Seattle deals now and for the next 3 days you can snag a Subway Footlong Meal deal for as low as $1.00!!!  If you are new to Eversave you will get a $2.00 credit AND for TODAY ONLY there is a special promo code that will get you $1.00 off as well.
Here are the 3 Locations participating:
10000 Aurora Ave. North
Bldg 3, Ste 2-4 Oak Tree Villa
Seattle WA, 98133
206-695-2390
10406 Greenwood Ave. North
Seattle WA, 98133
206-781-1242
8757 Holman Rd NW
Ste D
Seattle WA, 98117
206-789-0478
Here is how to get this deal:
1. Go to Eversave.com and sign up. Click on Seattle Deal which is Get a Subway Footlong Meal deal for $4.00
— If you are new to Eversave you will get a $2.00 credit just for signing up that you can use right away.
2. At checkout TODAY ONLY use promo code SUBS and you will get $1.00 discount too Won't be available tomorrow or Thursday)
3. Pay as little as $1.00 for a Subway Footlong Meal.
4. Print out your voucher when the deal ends and take it to one of the participating Subway locations in Seattle, hand it to the cashier and get your meal.
I love deals like this…I might just get this deal and save it for when I next come to Seattle.
GIVEAWAY!!
The lovely folks at Eversave would also like to offer HappyMoneySaver readers the chance to win one of these vouchers!! 5 Winners will be chosen for a Subway Meal Deal Voucher.
Just leave a comment below sharing that you would like to win this giveaway!
For extra chances to win you can do these:
Giveaway ends on Thursday 3/31 at midnight. Winners will be randomly chosen and announced Friday morning. Good luck!