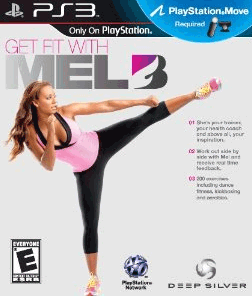 Just in time for those New Year's fitness resolutions! 😉 Amazon is offering up Get Fit With Mel B
for PS3 for only $6.25 (was $39.99). Prime members get FREE 2 day shipping and non-members will receive free shipping when you spend $25 or more.
Product Features:
Players will appear on screen alongside celebrity superstar Mel B receiving her real-time feedback in several disciplines like dance fitness, cardio, step and kickboxing
Get Fit with Mel B delivers a personal nutrition program including 6 different meal plans and 140 recipes
Tailored to meet your personal fitness goals, she will increase your workout level as your skills and endurance increase
Supporting the use of a wide range of fitness accessories such as medicine balls, step platforms and resistance bands, Get Fit with Mel B is must-have for anyone seeking to improve their fitness and quality of life!
Thanks, Passion for Savings
Disclaimer: Amazon prices can change quickly. This price was current at the time of this posting.