Oh boy!! Are you ready for a deal that made me super duper happy today?! If you don't already know I am in love with the new Ibotta Coupon App! If you haven't signed up you really should give it a try , at least once 🙂 You can sign up HERE and receive a $5 bonus cash just for joining. So, here's the money making deal:
My Ibotta account had 2 Kellogg's Eggo Offers available, keep in mind Ibotta offers may vary by user:
Heres a deal that I scored!
Buy 1 Kellogg's Eggo Thick & Fluffy Waffles $2.38
Buy 1 Kellogg's Eggo Thick & Fluffy Waffles $2.38
use (2) $1.50 off any ONE Eggo Frozen Products Coupon– must redeem 1,000 points (you can print 2 coupons)
Pay $1.76, Receive: $2 Ibotta Rebate
Final Price: $0.24 Money maker!!
See I told you, Ibotta Coupon App is AWESOME!
To learn how to use the Ibotta Coupon App you can read about it HERE.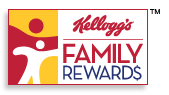 If you don't have any Kellogg's Family Reward Coupons, here is a list of of reward points available. Thanks, CouponConnections for this list!
HOWITWORKS20PNTS – 20 Points
JOINKELLOGG2SAVE
HALLOWEENPARTY25 25 points
MYFAVCHARACTER50 50 points
KFRFREEGROCERIES 50 points
GOODHOUSEMAG50PT 50 Points
KFRNOWONFACEBOOK 20 PTS
FOODNETMAG50PNTS 50 points
ERESUNGANADORHOY 50 Points
MARIECLAIRE50PTS 50 points
FAVHOLIDAYCOOKIE 25 pts
KFRFAVPOPTARTS10 10 points
KFRDELTAENTERNOW 50 points
ENTERDELTASWEEPS 50 points
KFRGIFTOFSAVINGS 50 points
EZ25POINTSFORKFR 25 points
Let us know if you know of anymore Kellogg's Family Reward Codes.