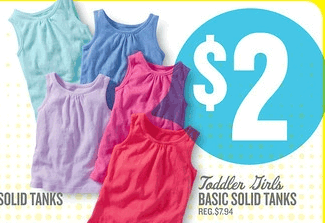 Old Navy is having a big $2 tank top sale this weekend. Making things even SWEETER, there's a nifty 10% off coupon – so now those $2 tanks are just $1.80!! Woohoo! Sale and coupon expire 5/28.
But wait! There's more!
There's also a coupon for $10 off any $50 purchase, and a coupon for $15 off any $50 purchase exclusively for Old Navy card holders. These coupons expire 6/6.
Thanks, My Frugal Adventures!