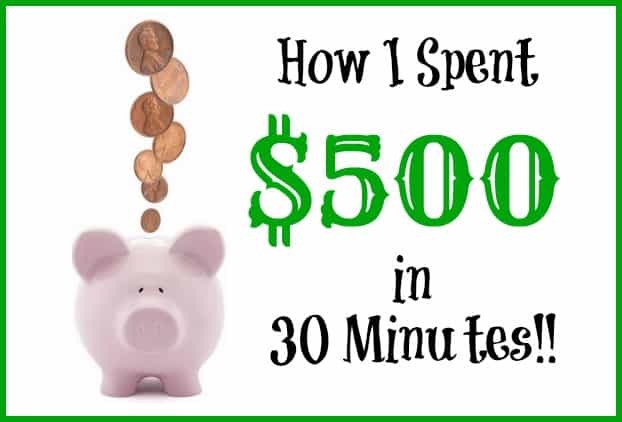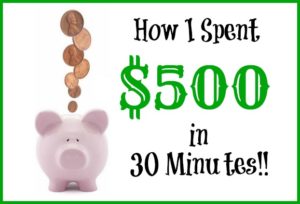 I know it doesn't seem possible but I got home from the store the other night and was reeling in disbelief that I had just spent $500 in 30 minutes!  And here is the kicker–I still didn't know what I was going to make for dinner that night!
How is that possible, you ask?  Well, first of all, I went to the store without a list.  I knew that I needed food in my house and I know what my family likes.  I thought this was going to be a quick, easy trip.  And, honestly, it was….at first.
I started out getting milk and cheese.  Then I grabbed some fruit and lettuce.  Then I hit the meat section and I  figured I should stock up on meat.  I mean, you always need meat in a pinch and it freezes well.  So I threw a couple roasts in with a bunch of chicken breasts that were on sale and even a turkey breast because Thanksgiving is right around the corner.  I was on a roll.
Then I remembered that I was in charge of treats for my son's soccer game in a couple days.  I grabbed a big pack of Gatorade and a big bunch of granola bars.  While I was there I saw that fruit leather was on sale and I know those are great fillers in my kid's lunches.  And next to those were poptarts, cold cereal, and fruit snacks.  Yes, all things that I know my family likes but that I don't usually buy because it is hard on my budget and hard on their bodies.
Now I won't indulge in any more of my grocery secrets (especially not about the box of cream puffs hidden behind a bag of veggies in my freezer!) but once I reached a certain point I just started throwing things in my cart that looked good.  And that, my friends, was a mistake.
I didn't start to realize it until I began to unload my cart and took a good look at what was in it.   I got a swift jolt of adrenaline run through my body when the cashier told me the total was over $500!  I had only been in the store for 30 minutes and I had spent THAT MUCH money!
Shell-shocked, I left the store and have been staring at the receipt trying to make sense of it and understand what I bought. What I realized: this can't happen anymore for my family's health and for my budget that I just blew through for the entire month!
To help with my budget, I just signed up for a FREE 1 hour webinar — 4 Keys to Saving Money at the Grocery Store on Thursday night.  There are going to be ways to save BIG money on your food, toiletries, and household items.  I love being able to save money but my favorite thing is to share it with all of you!  Come and learn these tricks so we can all save more money at the grocery store.  Best of all it's FREE!
You can sign-up for the webinar here!
To be accountable to all of you, I am going to listen on Thursday and try using the tricks that I learn at my grocery shopping trip this weekend and I will let you know how I do next week!  I would love to hear your stories also to see how it helped you in saving money.  Believe me–no one wants to spend $500 in under 30 minutes!