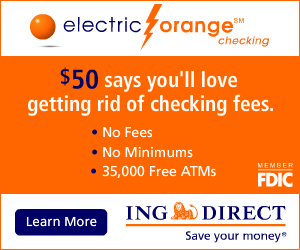 Still available- an easy way to make $50!   Open up a FREE ING Direct Checking Account and earn an extra $50 after three (3) transactions:
Go here and click the "Apply Now" button
Open a FREE Electric Orange Checking account (you can open it with $5, $10…whatever you choose because there's NO minimum!)
Make a total of 3 bank card purchases or Person2Person Payments (or combination of the two) within 45 days of opening your account. (NOTE: These purchases can be tiny too, like $5!)
Your $50 bonus will automatically be deposited into your account on day 50.
With ING Direct, you get FREE ATM access along with FREE online Bill Pay, no overdraft fees, no monthly fees and no "hidden" fees, whatsoever. For a fast $50, give ING Direct a try. 🙂 If you decide it's not for you, you can close your account at any time.